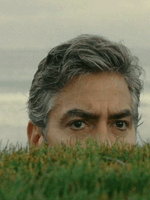 Over the years Alexander Payne has been invited to Telluride to debut various films, but conflicts with other festivals have always kept that from becoming a reality. He finally attended his first SHOW here two years ago as a Guest Director for the festival. And today, he finally brought a film with him, debuting "The Descendants" to the first audience ever as part of the press and patrons special screening at the Chuck Jones Cinema.
"It's funny how long it can sometimes take to realize your destiny, to be a part of this festival," he told the audience while introducing the film. And indeed, Payne fits right in here with the cineastes.
The film, however, I found to be a bit Payne-lite. There's a wonderful subtlety to the effort that certainly isn't present in his past work. There's an effortlessness here, where something akin to straining would frequently pop up in his breed of dramedy. And the level of cynicism in most of his work, including his still-best "Sideways," was refreshingly absent here. But it doesn't have the density of his past work, and I missed that.
Ultimately the film is about catharsis and its many faces: revenge, anger, love, forgiveness, etc. And it is, ultimately, quite a complete piece of thematic work in that regard (as Payne's films tend to be). It's also a great vehicle for George Clooney to stretch. The actor really allows himself to stay under the directorial vision of the film while never losing any of the charm and charisma of his star.
Yet there is something that feels somewhat diminished by the film's cruising along a slighter path for so long before tying its themes up in an emotional way. While Payne mostly dodges "look-at-me" comedy strokes (save for going broad with actor Nick Krause once or twice too much), the main character's central quest in the film — to confront the man who was sleeping with his now comatose wife — comes off so small for so long that the final payoff of catharsis feels slightly burdened.
Shailene Woodley is appropriately bitchy and angsty as Clooney's teenage daughter who knew of the affair. She's a great sidekick for his character throughout and when confrontation happens, it's played incredibly tight and controlled. Robert Forster gets a handful of moments to be the crabby grandfather to Clooney's daughters, while Beau Bridges (though unfortunately saddled with exposition much of the time) is a total breath of fresh air on the screen here.
The film will be, I imagine, largely adored by critics. Film awards seem like a tough thing to gauge from here, but my instinct is Clooney and perhaps the screenplay could find room in the Oscar conversation, and that the film could do well on the whole as a Golden Globe hopeful. But it remains to be seen how Academy members will respond. My hunch is they will appreciate, finally, a film from Payne that doesn't have to be bitter to depict harsh realities. Sometimes the harsh realities bring plenty of that to the table. Will that be enough to wrangle a Best Picture nomination? I'm not afraid to say I'm not really sure.
More from Telluride as it happens. "George Harrison: Living in the Material World" and "Albert Nobbs" are still to come this evening.
[Photo: Fox Searchlight Pictures]