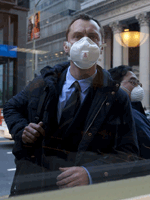 Spinning off of comments made in the podcast this morning, I liked Steven Soderbergh's "Contagion" quite a bit. It doesn't reinvent the outbreak movie wheel per se, but it manifests a unique cross-section of characters and dissects them clinically, perhaps the film's (and screenplay's) biggest stroke of genius.
There isn't a lot of heart to be found in the film, though when it peeks through, it counts. And even then, Soderbergh and screenwriter Scott Z. Burns aren't concerned with lingering on it. They're more interested in depicting a global community in crisis, dropping the players onto a Petri dish to observe — coldly — societal breakdown and human frailty.
The film pulses along (driven by precise editing by Stephen Mirrione and thumping electronic interludes by composer Cliff Martinez), rarely taking time to burrow into a character before pushing on to the next. Indeed, some threads are left dangling, handled in closing by mere suggestion. And it's all of a piece with a film that seems determined to keep you at arm's length — and for good reason.
The continued refrain "Don't get too close to anyone" as it pertains to exposure and contamination kept ringing in my ears as actually a subtle theme. Soderbergh finds a sense of loss and longing in between the lines of a narrative of social disintegration and distancing. But the irony is the necessity of that distancing in an outbreak situation. And it's saying something that heroes are ultimately not what they appear to be in this world. It's the terror of chaos.
I feel like the film comes in for a soft landing ultimately and you could even say it pulls a punch or two in resolution, but that's also very much by design, merely working against your expectations of fiction. Reality was a goal here, which is ultimately what sets the film apart in the genre. On the whole, it's a well-crafted piece of work from a unique script by Soderbergh-collaborator-as-of-late Burns. Oscars seem like a bit of a stretch to me, but I think best in show from the cast is Jude Law. He gets a role with plenty to chew on and digs in ferociously.
More on all of this in detail in my interview with Burns from earlier this week. The film bows in Venice Saturday and opens nationwide September 9.
[Photo: Warner Bros. Pictures]