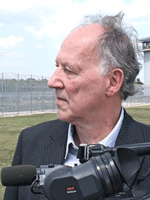 Still no screenings yet here at Telluride. Most are up at the Patron Brunch smooching George Clooney's rear at the moment. I've been on the porch of my B&B enjoying the crisp mountain air and doing a little work. Alejandro González Iñárritu popped in here with his family. He was here last year with "Biutiful" and maybe it sucked him in.
On a quick stroll around town I popped into a local bookstore and noticed a display featuring festival highlights: Kaui Hart Hemmings's "The Descendants," John Kerr's "A Most Dangerous Method"… and Hunter S. Thompson's "The Rum Diary." So chalk the latter up as surely one of the festival's surprise "TBAs." And, indeed, Johnny Depp is in town. (UPDATE: Anne Thompson is reporting the festival didn't screen the film, so…who knows what's going on with that.)
Meanwhile, Werner Herzog's documentary "Into the Abyss: A Tale of Death, a Tale of Life" announced distribution yesterday and I'm just now seeing it. Last year "The Way Back" held its Newmarket acquisition announcement for the first day of the fest. Herzog's latest is definitely on my list. I hope I can get around to seeing it.
Sundance Selects has picked up North American rights to Werner Herzog's upcoming documentary Into the Abyss: A Tale of Death, a Tale of Life ahead of the Telluride Film Festival, which begins Friday.

The documentary, produced by Erik Nelson and exec produced by Dave Harding, Amy Briamonte, Henry Schleiff, Sara Kozak, Andre Singer, and Lucki Stipetic, explores a triple homicide case in Conroe, Texas, interviewing those involved, including a 28-year-old death row inmate who was executed just 8 days after appearing on-screen.

Sundance Selects, a sister division of IFC Films, enjoyed a solid success with Herzog's current documentary Cave of Forgotten Dreams, which has grossed $5.2 million domestically.
In fifteen minutes or so the TBAs will officially be announced, followed by the annual press orientation and then a 2:30 screening of Alexander Payne's adaptation of Hemmings's novel. Keep an eye on my Twitter page for any knee-jerks.
[Photo: Sundance Selects]