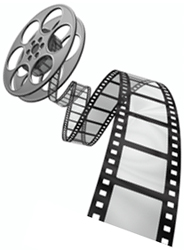 Here is your movie Web site mecca.
The net is an ever-changing cornucopia of new media film coverage sites and the old media outlets struggling to keep up (and in many cases succeeding).
Do I visit each of these sites every day? No way. But this comprehensive list of outlets is the best starting-off point for rooting out news and points of interest across the Web, and I find it's rather important to keep the tapestry connected.
We link, therefore we are.
The Oscarweb
Awards Campaign (HitFix)
Award Central (Variety)
Awards Daily
The Carpetbagger (New York Times)
The Envelope (Los Angeles Times)
The Film Experience
Gold Derby
Gold Rush
Little Gold Men
The Odds (The Wrap)
Oscar.com
Oscars.org
ScottFeinberg.com
Your entertainment news fix:
Ain't It Cool News
Chicago Tribune
CHUD
Cinema Blend
CNN
Collider
Coming Soon
The Daily Beast
Daily Telegraph (UK)
Dark Horizons
Empire Online (UK)
Film School Rejects
Film Stew
Film Threat
The Guardian (UK)
Hollywood News
The Hollywood Reporter
IESB
IGN
The Independent (UK)
indieWIRE
JoBlo
LA.com
Latino Review
Los Angeles Times
Mania
Movie City News
Movie Hole
Movies.com
Movieweb
MSNBC
New York Daily News
New York Observer
New York Post
New York Press
The New York Times
Newsarama
Premiere
Roger Ebert
Rope of Silicon
Salon
Slate
The Times (UK)
USA Today
Variety
The Wall Street Journal
Washington Post
The Wrap
Yahoo! Movies
The Blogs:
/Film
The Auteurs' Notebook
Badass Digest
Beyond the Multiplex
The Big Picture
The Blog (The Guardian)
Deadline
Fataculture
The Film Experience Blog
Film Junk
GreenCine Daily
Hollywood Elsewhere
The Hot Blog
i09
Living in Cinema
Lumenick on Film
Movieline
Moving Picture Blog
Obsessed with Film
The Playlist
Row Three
Screen Rant
Script to Screen
Some Came Running
Speakeasy (Wall Street Journal)
Thompson on Hollywood
Vulture
Magazines:
Entertainment Weekly
Film Comment
Filmmaker
Moviemaker
New York
The New Yorker
Newsweek
People
Sight & Sound (UK)
Time
Resource Sites:
Box Office Mojo
Film Site
Internet Movie Database
Metacritic
Movie Review Query Engine
Rotten Tomatoes