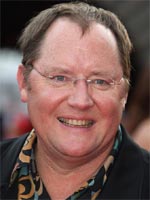 This is turning into quite the year for John Lasseter. A little over a month ago, he and his fellow Pixar directors were honored with the career-achievement Golden Lion at the Venice Film Festival. Now comes the news that Lasseter has been named the 2010 recipent of the Producers Guild of America's highest career honor, the David O. Selznick Achievement Award.
Lasseter is the first animation producer to receive the award, which was last handed earlier this year to Michael Douglas. Previous recipients include Kathleen Kennedy and Frank Marshall, Roger Corman, Clint Eastwood, Jerry Bruckheimer, Dino De Laurentiis, Robert Evans, Billy Wilder … the list is long and intimidating. The award will be presented at the PGA Awards ceremony on January 24.
Congratulations, then, to Lasseter — it's a splendid feather in his cap, and a further omen that this might be the year that Pixar finally cracks the awards-season big league. Industry goodwill for the studio really couldn't be any higher at the moment.
Press release soundbites after the cut.
"John Lasseter is a uniquely talented producer with the rare combination of technical ingenuity and creative vision.. He's a wonderful storyteller, consistently displaying extraordinary skill, humanity and grace," said David Friendly and Laurence Mark, co-chairs of the PGA Awards. "John"s work with both Pixar and Disney has raised the bar for producers in live-action films as well as in animation, and we're excited to be honoring him with the Selznick Award this year."

Lasseter added, "David O. Selznick was one of Hollywood's legendary producers and master showmen, and it's a privilege to be in the company of so many other fantastic filmmakers who have received this award. Animation is a collaborative process, and I am grateful to the incredible artists, storytellers, and technical and production wizards who have made the success of Walt Disney and Pixar Animation Studios possible. I am thankful to the Producers Guild for this wonderful honor."