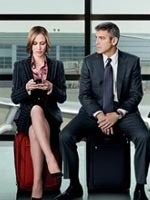 I'm always interested to see how the more hyped Hollywood contenders for Oscar glory play in Britain, largely because there are few hard-and-fast rules for determining what will take UK critics' (and audiences') fancy.
Last year was a case in point: audiences here shrugged off "Milk," while "The Wrestler" became a mini-phenomenon — though neither film offers an obvious inroad for a foreign audience. And who could have predicted that "Changeling" would find safe critical haven (not to mention a slew of BAFTA nods) with the Brits, despite receiving a kicking at home?
So I was curious to see how "Up in the Air" fared with the British press following its London premiere on Sunday, given that it's a film with quite an American outlook. However, the universality of its recession-minded story has evidently carried through, as early reviews are uniformly warm.
The Telegraph's Tim Robey leads the applause, with particular praise for the ensemble:
Vera Farmiga comes over as the smartest actress in Hollywood right now, so it's no surprise how deftly she nails the role of a fellow frequent flyer and like-minded lover ("Think of me as you with a vagina"). Anna Kendrick, as Bingham's voracious new nemesis on the workforce, is a brittle joy. Either or both will be Oscar-nominated, and so will Clooney, who has never been so subtly funny outside a press conference, or understood his own strengths as an actor better. This richly polished and adult entertainment will be unmissable come January.
The Times's Kevin Maher is similarly enthusiastic, reserving his greatest gushing for Clooney:
This is Clooney's movie. Yes, for much of the time he does the familiar silver-haired fox routine, espousing his "no commitments" lifestyle with a convincing dreamy-eyed smile. But there is a certain aching sadness that permeates his entire performance, and that is only fully realised in the film's final act, suggesting deeply satisfying and hitherto unexplored depths in Clooney's range. He weights profoundly the entire movie, and it is this performance — above anything else he has delivered this year — that will be recognised at Oscar time.
Finally, Time Out's Tom Huddleston declares the film "flawed," but also "a witty, thoughtful, surprisingly bleak satire on contemporary America, and the crumbling dream it represents."
In other words, no hitches here. Expect the film to glide through the BAFTA noms as easily as it does the Oscars (not as tricky as it used to be, since they make a conscious effort to go hand-in-hand). Clooney, in particular, is well-positioned: he's never won a BAFTA before, and his triple-header at the London Film Festival has accrued him a great deal of goodwill on this side of the ocean.