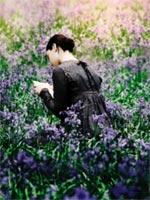 Quentin Tarantino is obviously quite the epistolarian. Just yesterday, I mentioned the sincerely admiring letter that he wrote to controversial "Kinatay" director Brillante Mendoza, praising the brutally violent and widely unpopular Filipino film for its daring and authenticity.
Evidently, that wasn't the only letter QT wrote in his Cannes hotel suite. And while it's not unexpected that he'd support a fellow provocateur like Mendoza, some might be surprised to hear that he's equally passionate about Jane Campion's "Bright Star," which I flipped for earlier this week.
UK site Moviefone unearthed the following gushing note (written, like the Mendoza letter, in red ink) from Tarantino to Campion:
My favorite film of yours … I don't like period pieces like that. I loved this!!! Never has heartache been so realistically and movingly portrayed as Abbie taking to her bed … The lovers kisses … Abbie and Ben … touching … Brilliant. I loved it!!! Love – Your fan – Quentin Tarantino.
For my part, I'm not as surprised by the letter — Tarantino's catholic tastes have always been well-known, after all — as I am by the fact that I'm in completely agreement with the filmmaker for the second time in as many days. It does make one wonder how many factions of the Academy's directors' branch hold Campion in similarly high esteem.
Meanwhile, some might choose to be cynical about it, but I like the fact that Tarantino is so straightforward about expressing his admiration for his fellow peers. Anyone seen his letter to Lars von Trier?