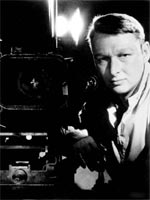 Screen International reports that veteran film, TV and theater director Mike Nichols will be the next recipient of the American Film Institute's Life Achievement Award, to be presented next summer:
"Genius is a word oft overused in our world, but surely not in the case of Mike Nichols," [AFI board of trustees chair Sir Howard] Stringer said. "His artistry has spanned the mediums of modern storytelling – movies, television and the stage – and his gifts across five decades continue to inspire artists and audiences alike."
No argument there from me. "Who's Afraid of Virginia Woolf?," "The Graduate," "Carnal Knowledge," "Silkwood" and "Closer" all continue to hit me where it hurts, every time I see them. For others, it's "Angels in America." Or "Working Girl." Or even his brave attempt to make cinematic sense of "Catch-22." Forget the duds … mainstream American cinema doesn't have many (or any) like him today. Congratulations, sir.