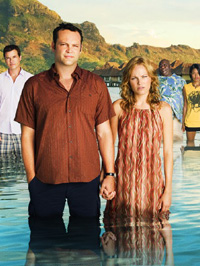 The number one movie at the box office this weekend was Universal's "Couples Retreat" with $35.3 million. That's the ninth-biggest October debut in history and the biggest total ever tallied on this particular weekend of the year, but it's not the biggest success story of the weekend. Not by a mile.
No other films were released wide to compete against Vince Vaughn and company, so the (last) resort comedy was able to stretch its legs and monopolize the date crowd despite poor reviews. Mainly, people showed up to see if the filmmakers actually had the gall to cast Jon Favreau as the irresistible ladies man. Now that's comedy.
"Zombieland" dropped a very good 39% due to the lack of new competition and has shot up close to $50 million total already. Second weekend holds were pretty good all around with the "Toy Story" double feature dipping 39% as well and "Whip It!" falling 40%. Only "The Invention of Lying" seems to have missed out on the good word of mouth and falls 52%.
But let's talk about "Paranormal Activity." The film opened two weeks ago with midnight showings only at 12 theaters in college towns. It averaged $6,489 at each of them, which was pretty impressive. Last week it expanded to 33 screens and a couple of Friday and Saturday evening shows, which turned into a $16,129 per theater average for the weekend. Again, impressive, and proof that Paramount's unusual distribution approach (which at first appeared like just dumping unwanted product with a contractually obligated release) may actually be working.
This weekend, the film expanded to 159 theaters and grossed $7.1 million to take fifth place on the chart. That's $44,440 per theater and you are officially looking at the first bona fide box office phenomenon since "Borat." It joins "Hannah Montana/Miley Cyrus: Best of Both Worlds 3D Concert" as the only two films since "Return of the Jedi" to gross more than $40,000 per theater in over 100 screens. Wherever this thing goes from here is irrelevant. Paramount has hit a grand slam and this release will be studied by rival studios for years to come.
And it may be worth mentioning that phenomena are tough for the Academy to ignore outright. While "The Blair Witch Project" is the easiest comparison and that got no nominations, even the horrifyingly stale "My Big Fat Greek Wedding" script got some recognition so perhaps a sound editing nod could be in the works? Not bad for a couple of people setting up a camera and moving some bedsheets around.
On the limited front, "Trucker" performed pathetically and wiped away any long shot hopes for Michelle Monaghan. "Good Hair" earned over a million bucks, which may make the documentary branch take notice, and "An Education" did a strong $40,595 per screen in 4 theaters.
This week, I gave up $14.75 to "A Serious Man" and didn't like it at all. I'm sure that won't go down well with readers (or Kris), but the movie just failed at almost every level for me. Michael Stuhlbarg, however, was absolutely excellent.
Next week finally unleashes the most anticipated hipster event since that ironic mustache party at the American Apparel warehouse: "Where the Wild Things Are." With broad appeal amongst kids, teens and adults, this should be a $25 million opener at least. I've heard some go as high as $35-$40 million, but I'm not quite prepared to make that leap. The fact that Warner Bros. can expect these grosses at all is an amazing turnaround from a year ago when release delays and bad buzz about re-shoots plagued the project.
Competition comes from Gerard Butler and Jamie Foxx trying to out-scowl each other in "Law Abiding Citizen." Overture Films is still a new kid on the block so if they can squeeze out $15 million, that would be great but I'm thinking more like $12 million.
Sony has "The Stepfather," which ordinarily might find okay business with, but with "Paranormal Activity" likely to expand farther, there won't be any room for another starless screamfest. $5 million.
What do you guys think? Are you letting these box office results affect your Oscar predictions at all?  Here are the weekend's top domestic grossers, courtesy of Exhibitor Relations: