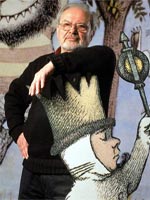 The best read of the day is Scott Timberg's substantial LA Times profile of "Where the Wild Things Are" author Maurice Sendak, which traces the vast influence he and the book exerted on children's literature — as well as a certain young Spike Jonze.
As someone who was heavily raised on Sendak's work — "Wild Things" apart, I could recite his entire "Nutshell Library" back-to-front in my kindergarten days — I'm glad to see the 81 year-old author foregrounded amid the swell of hype for Jonze's film. Obviously, Timberg devotes much attention to the boundary-breaking darkness and psychological grounding of Sendak's work; more surprising, however, is this interpretation of the book's cinematic properties:
In "Wild Things," a single sentence can take pages to unfold, its meaning changing slightly with each image. And this book with numerous wordless pages ends with a half-sentence and no accompanying image. Sendak works similarly to the directors of the French New Wave, who used jump cuts and other techniques to dislocate their editing.
Meanwhile, Sendak may have already stated his one small reservation about Jonze's vision for "Wild Things," but I like his matter-of-fact response to the occasional conflicts of adaptation, in which it's clear he's glad the project finally fell to an independent-minded artist like himself:
"I'm most impressed with the freedom by which Spike said 'no' to me," Sendak says. "I'm so pleased with his courage, his moodiness. Children's movies bore me to death. With Spike, I found a genuine, fierce little artist. It's not cute and cuddly! It's a real movie."
On a side note, it's interesting that "Wild Things" is appearing within weeks of "Fantastic Mr. Fox," another auteur-led adaptation of a beloved children's book, from another author famous for his darker sensibility. It'll be interesting to see which filmmaker's creative liberties are better received.
Read the rest of Timberg's piece here. My own Page to Screen discussion of "Where the Wild Things Are" from earlier this year can be found here.