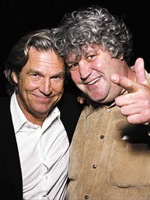 Patrick Goldstein got Jeff Dowd on the record last week, vis a vis Jeff Bridges, and the result is a wonderful dedication to a guy who is frequently considered an American treasure.  Bridges, of course, took on the role of Jeff "The Dude" Lebowski in the Coen brother's 1998 comedy "The Big Lebowski," the character largely based on the colorful Dowd.
There are some lofty turns of phrase throughout, but it's a beautiful ode, I have to say.  Here is a taste:
For movie-goers, who have been cinematically blessed watching Jeff Bridges for nearly four decades in 65 movies, "I used to be somebody, now I'm somebody else" is a reminder of how Jeff Bridges has fully inhabited such a wide array of characters and authentically captured their essence with a full palette of shades from light to dark. Bridges has taken us through a mosaic of perspectives of the uniquely American experience.
Check out the rest at The Big Picture.