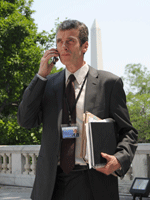 In most cases, the adapted screenplay category of a given Oscar race is packed with Best Picture nominees or contenders. This year, however, there was a nice balance of adapted and original screenplays in the Best Picture category, and in fact, of the "top five" films that trickled down throughout the season, three were original and two were adapted, a rarity.
Regarding the adaptations, things seemed to firm up for a while, but with the various WGA ineligibilities, one couldn't shake the feeling that a surprise was in the works. At the end of the day, Scott Cooper's run on "Crazy Heart" came to an unfortunate end, while a fan-fave British comedy found support.
The nominees are:
"District 9" (Neill Blomkamp, Terri Tatchell)
"An Education" (Nick Hornby)
"In the Loop" (Jesse Armstrong, Simon Blackwell, Armando Iannucci, Tony Roche)
"Precious" (Geoffrey Fletcher)
"Up in the Air" (Jason Reitman, Sheldon Turner)
Like with most screenplay races, it's safe to look to crossover Best Picture nominees when trying to predict a winner. While there are four in the field this year, only two are from that anointed "top five," so I would say the race is between those two films.
But that should take nothing away from what Neill Blomkamp and Terri Tatchell did with "District 9," an instant science-fiction classic that has enjoyed quite the unlikely awards run, especially for the writing, this season. The unfortunate thing is, to say nothing of Sharlto Copley's consistent snubs as lead actor of the piece, he doesn't get his fair shake here, either. Even Blomkamp and Tatchell will tell you he improvised virtually all of his dialogue, adding even more to what they conjured on the page than they could have imagined. Nevertheless, it's been a healthy season for this film, which isn't likely to walk away from the Kodak with any Oscars in hand. But clearly it didn't need 10 nominees to get a screenplay nomination, and that, I think, is a favorable statement for the writers' branch.
Author-turned-screenwriter Nick Hornby was unfortunately one of the many scripts, along with "District 9," actually, that was deemed ineligible by the WGA because of signatory concerns. Everyone and their mother knew he and "An Education" would pull out a notice here regardless, and so here he sits, one of three major nominations for the film, which has endured a long ride ever since Sundance 2009. Taking off of London Times journalist Lynn Barber's memoir of her 1960s coming of age, Hornby turned out a tender, considerate, insightful study of the emotional perils of youth. He also subtly worked up an ensemble piece that would be cat-nip for actors looking for that spirit of community, and in tandem with Lone Scherfig's direction, yielded one of the year's best dramas.
The surprise in the category was Armando Iannucci and company's nod for "In the Loop," an irreverent summer politi-comedy that got quite the screener push and, despite not being eligible for WGA consideration, slid into the final field of five. If any screenplay of the lot bows at the altar of dialogue and sharp wit, this is certainly it. Sometimes when voters are sitting down to pick a screenplay winner, the truth is, they think about the dialogue more so than important things like structure or theme execution, etc. So in a parallel universe, this would be an upset possibility to keep an eye on. The only problem is, while the writers were successfully solicited, it's not entirely likely that the Academy at large has seen the film or has an opinion on it, so it's probably an uphill battle for the British invasion.
Another film that has endured the long journey from Sundance 2009 is "Precious," which ultimately became one of the no-brainers in this category. Writer Geoffrey Fletcher was teaching at NYU and Columbia when Lee Daniels found him and tapped him to adapt Sapphire's novel "Push," which has quite the devoted following — a following that didn't think it's pages could yield a film. Fletcher proved that it was an inherently cinematic story and put forth quite the impressive adaptation, taken in a bold stylistic direction with Daniels at the helm. The script has a lot going for it, not least of which being a balance of tone, gracefully moving from the harrowing to the heartwarming. If there is any film truly threatening the perceived frontrunner of the category this year, I'd say this is it.
But the frontrunner, as it were, doesn't look like it'll have any trouble getting in and out of the Kodak unscathed. "Up in the Air" has had quite the interesting ride since its Telluride and Toronto unveilings. It went from potential Best Picture nominee to sure-thing Best Picture victor before finally getting overshadowed by "Avatar" in the December push. Actor George Clooney seemed to have a bead on a trophy until Jeff Bridges jumped into the race at the last minute. But one thing few have really been able to argue against (including the BAFTA, which had plenty of home-grown efforts to choose from) is Jason Reitman and Sheldon Turner's adaptation. There were some close PR calls with an arbitration dispute and the novel's author, Walter Kirn, embarrassing himself on Twitter, but they likely did little to derail this express.
Will win: "Up in the Air"
Could win: "Precious"
Should win: "Up in the Air"
Should have been here: "Star Trek"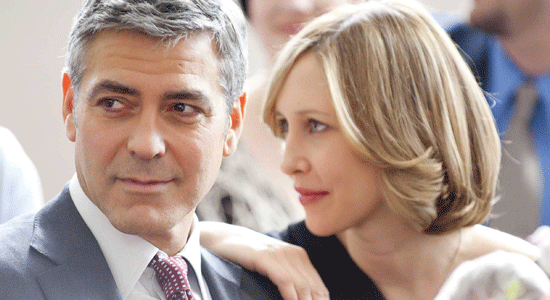 What do you think deserves to win this year's Oscar for Best Adapted Screenplay? Have your say in the sidebar poll!