(Welcome to the Oscar Guide, your chaperone through the Academy"s 24 categories awarding excellence in film. A new installment will hit every weekday in the run-up to the Oscars on February 24, with the Best Picture finale on Friday, February 22.)
I"ve loved this Oscar season. Most categories are genuine races. Even in some where there is not much of a race (Best Actor, Best Original Song, Best Visual Effects), the frontrunner is so exceptional and/or it's such a delight to see the other nominees there that the category is a delight to watch nonetheless. As for Best Supporting Actress? Wake me up when this is over. There is no category about which I care less this year.
The nominations stage was mildly interesting. A frontrunner emerged. As the race went on, it became apparent that the "second and third" (my ranking — it might not have panned out like this) contenders were former winners who in the recent past everyone assumed would never be nominated again. In fourth, we have an actress who has had a remarkable run in recent years while the last slot was taken by a likable actress who managed to work another difficult-to-come-by Oscar nod from two years ago into a lovable part in a beloved film. The resulting lineup of five previous nominees is a first in this category. The race now becomes quite boring as we wait for the inevitable crowning of a princess.
The nominees are…
Amy Adams ("The Master")
Sally Field ("Lincoln")
Anne Hathaway ("Les Misérables")
Helen Hunt ("The Sessions")
Jacki Weaver ("Silver Linings Playbook")
It"s difficult to say that there was much of a "snub." Nicole Kidman scored Globe and SAG nods, resulting in many people assuming her flamboyant performance in "The Paperboy" would end up here. Esteemed favorites Maggie Smith ("The Best Exotic Marigold Hotel") and Judi Dench ("Skyfall") missed out, too. I felt Emma Watson was heartbreaking with what was admittedly a somewhat clichéd character in "The Perks of Being a Wallflower," though. And Samantha Barks got the short end of the stick from an editing perspective in "Les Misérables," but I relished whenever she was on screen.
One somewhat surprising addition, given how the SAG nominations played out, was Amy Adams. Is she the new Thelma Ritter? Well, I couldn"t see Thelma Ritter playing Lois Lane, but garnering four Best Supporting Actress nominations in eight years is quite something. Adams has never really been a contender for the win over the years and, with the exception of "Junebug," she"s never really deserved to be. Her performance in "The Master" is quite good, though I found her character somewhat lacking and I don"t think she added to it in the way that her co-stars did. There is no evidence of this actress slowing down, though. Can she become a five-time nominee soon?
After all, "They like her. They really like her." It's been 28 years since that controversial second win and a famous acceptance speech, and Sally Field has finally returned to the Oscar race. Being left out for "Steel Magnolias" and especially "Forrest Gump" (as Guy has pointed out, one of the strangest omissions in Oscar history), one would be forgiven for having thought her history with Oscar was over, especially as the three other women who won Best Actress on their first two nominations (Luise Rainer, Vivien Leigh and Hillary Swank) have never managed another nod. But, alas, playing the First Lady in "Lincoln" proved enough to bring her back. For me, this turn was somewhat hit-and-miss. But, to be fair, it is also an unstable character and when Field captured that aspect, it was effective. Her role, and her 100% success rate with Oscar to date, would make me guess she"s in second. But it"s a very, very distant second.
I"ll give Anne Hathaway this: she managed to do all the right things after being cast as the Princess of Genovia in "The Princess Diaries." What could have been a blip of a career as a tween idol was wisely managed as she grew up in prestige pictures ("Brokeback Mountain"), mainstream hits ("The Devil Wears Prada") and hard-hitting star vehicles ("Rachel Getting Married," for which I would have been quite glad to see her win). There"s been the odd misstep but nothing disastrous. After looking great in a catsuit this summer, and marrying her beau, playing a singing prostitute dying of TB in "Les Misérables" has made her an inevitable Oscar winner, with BFCA, Golden Globe, SAG and BAFTA victories behind her. This is notwithstanding insufferable acceptance speeches. That"s not fair, I know. And I totally understand why people love her Fantine, but I actually wasn"t blown away despite adoring both the book and the play. She has a great voice, but I didn"t always believe her as the character, and have also discovered I"m the only person in the world who preferred her arrest encounter with Valjean and Javert to "I Dreamed a Dream." But I don"t have a vote.
Like Field, one would have thought Helen Hunt"s Oscar career was over, not because the Academy seemed to turn their back on her, but because the unlikely Oscar winner seemed to turn her back on the Academy by making terrible movies and/or taking nothing roles. Somewhere out there, Gwyneth Paltrow and Halle Berry must be breathing a sigh of relief. In all seriousness, I thought her take on Cheryl in "The Sessions" was exceptionally pleasant. But like the film as a whole, "exceptionally pleasant" doesn"t mean Oscar-worthy. I found praise around this whole venture overblown, personally.
After being a solo nominee for the Australian independent film "Animal Kingdom" two years ago, Jacki Weaver managed to capitalize on goodwill, going from monster mother to lovely mother in David O. Russell"s "Silver Linings Playbook." Her nomination this year came without nods from BFCA, the Globes, SAG or BAFTA. That makes her the most surprising inclusion in any acting category. Some have criticized this nomination as a useless throwaway nod. I disagree. I will admit that Field and Hathaway reached greater heights in their performances but I felt Weaver"s genuinely warm presence livened up the screen in a realistic manner. Indeed, I enjoyed her screen presence the most of any of the nominees!
Will Win: Anne Hathaway in "Les Misérables"
Could Win: Sally Field in "Lincoln"
Should Win: Jacki Weaver in "Silver Linings Playbook"
Should Have Been Here: Maggie Smith in "The Best Exotic Marigold Hotel"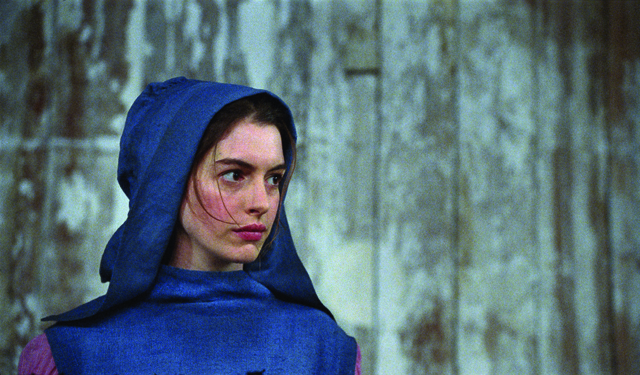 Is anyone else ready to put this race behind us? Could anyone imagine a circumstance in which Hathaway loses? Who got robbed? Chime in below!