(The Oscar Guide will be your chaperone through the Academy's 24 categories awarding excellence in film. A new installment will hit every weekday in the run-up to the Oscars on February 26, with the Best Picture finale on Saturday, February 25.)
Early on in the season it was decided that a full slate of five nominees in the Best Animated Feature Film category would be allowed, as there were at least 16 qualifying titles. However, that didn't necessary mean there WOULD be five, as the scoring system within the branch might still have yielded less that were deemed worthy.
In the end, five managed to surface, and a number of surprises bubbled up along with it. One formidable hybrid contender that was doing well on the precursor circuit failed to overcome inherent bias against it, while two fringe contenders from the indie world (and the same studio, no less) found their way in over other laureled studio efforts.
The nominees are…
"A Cat in Paris" (Alain Gagnol and Jean-Loup Felicioli)

"Chico & Rita" (Fernando Trueba and Javier Mariscal)

"Kung Fu Panda 2" (Jennifer Yuh Nelson)

"Puss in Boots" (Chris Miller)

"Rango" (Gore Verbinski)
And so it was that the animation branch said, "Sorry, Mr. Spielberg. We don't need no stinkin' 'Tintin.'" It's interesting because had "The Adventures of Tintin" been in the mix, it would have had a great shot at winning. That just goes to show the difference between branch voting and Academy-at-large voting. Also of note (though strangely it feels like an afterthought): this year marked Pixar's first snub in the 10-year history of the category as "Cars 2" failed to register.
The biggest surprise of the field, for me, was "A Cat in Paris" from directors Alain Gagnol and Jean-Loup Felicioli sliding in. Many figured one of the indie titles might find some room, and while the OTHER one that made it sounded about right, I just never gave this one much of a fair shake. It's animated in simple sketch designs and vibrant colors. But it's also barely a feature, clocking in at a swift 65 minutes. The story isn't really all that compelling, either, being a mystery yarn that doesn't really stand out, but the consistency of the craft likely went a long way here as it is indeed unique amid the fray.
"Chico & Rita" was the second film called on nomination morning for the category, and it left my jaw open because that meant two of the indie titles made it — and neither of them the one I expected (Annie-nominee "Arrugas (Wrinkles)"). When I first saw Fernando Trueba and Javier Mariscal's film at the 2010 Telluride Film Festival, it felt to me like a film that could easily contend for a nomination. GKIDS finally picked it up but I had a feeling the film might get lost. Well, fortunately that wasn't the case, as this colorful Cuban foray found some branch love and gets a big pop of exposure for its nomination.
On to more expected titles, DreamWorks' "Kung Fu Panda 2" has delighted in the spotlight on female filmmakers this year as Jennifer Yuh even graced the cover of The Hollywood Reporter at some point during the season. The summer sequel is gorgeously animated, more so than the studio's other nominee, in my opinion, and tells a rich story. Focus within began to tilt toward a certain feline, but never enough to split consideration away from this one. Sequels are by no means anathema here, but nevertheless, this one might just be battling it out behind the scenes on ballots for runner-up.
DreamWorks seemed to be gunning all the more for Chris Miller's "Puss in Boots" to land in this field. The "Shrek" spin-off was hand-in-hand with the studio's other effort at the Annie Awards, nearly leading the field there. I personally liked the film well enough, particularly the craft of the animation, but felt like it lost steam maybe half-way in. At this point I can't even recall much of it, but it's here nonetheless and there is sure to be a healthy push behind it. But with the absence of what might have been its only competition, one film and one film only looks to be the winner here.
That film is "Rango," from live action feature director Gore Verbinski. The in-house Paramount production will likely make a bold statement for the new animation division by lapping up this award, and how deserving it would be. The film is one of the year's best in any medium, a reverential ode to cinema as much as any other film that has gobbled up that talking point this season. It landed in theaters nearly a year ago and still stands out as the dominant force in the field, so the smart bet remains on Johnny Depp's lovable chameleon.
Will win: "Rango"
Could win: "Puss in Boots"
Should win: "Rango"
Should have been here: "Winnie the Pooh"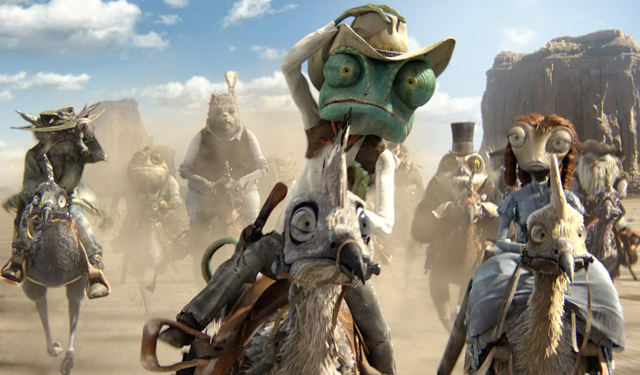 Keep track of our current rankings in the Best Animated Feature Film category via its Contenders page here.
What do you think deserves the Oscar for Best Animated Feature Film? Have your say in the comments section below.
For year-round entertainment news and awards season commentary follow @kristapley on Twitter.

Sign up for Instant Alerts from In Contention!