July 17, 2007
"Gone, Baby, Gone"
Written by Ben Affleck, Aaron Stockard
Based on the novel by Dennis Lehane
"I remember there used to be this commercial on TV, I'm pretty sure it was for dog food. The commercial said, 'Doesn't your pet deserve to be treated like a member of the family?' I was eight, maybe ten. I used to think, 'Well, depends on the dog.' I was never so sure of things as when I was ten years old."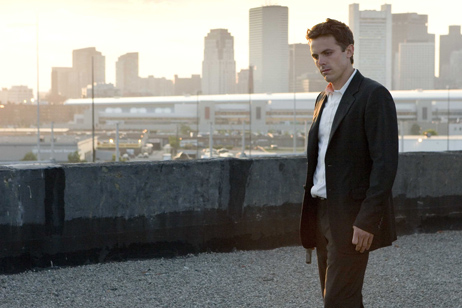 Oh Ben Affleck. When "Good Will Hunting" broke in 1997, he and Matt Damon were the two hottest things not on "Titanic." Now, look what's happened. Damon is arguably one of our greatest actors, and Affleck, well; he's turned into one of our greatest jokes. "Family Guy" has knocked him on a couple of occasions, and after a string of increasingly poor choices a few years ago, who can blame them?

It seems like Affleck himself couldn't. Starting with last year's startling performance in "Hollywoodland," he's been changing his career in a very deliberate and impassioned manner. The Allen Coulter film showed an actor knowing it could be his last chance, and devouring the role with a fearless, career-best performance. And now, he's out to silence all other critics with his first screenplay away from Damon and a directorial debut.

I can't say how the directing turned out, but I can say this about the script: we're going to have to stop making fun of Mr. Affleck real soon, because "Gone, Baby, Gone" is a tight piece of writing.

Adapted from the Dennis Lehane ("Mystic River") novel of the same name (and apparently co-written by Aaron Stockard, although my draft only lists Affleck), "Gone, Baby, Gone" follows two freelance detectives in their search to find an abducted child. That's the plot in a nutshell, but being a Lehane story (yet again set in Boston), it's obviously a lot more complex than that. As someone who has never read the book, I don't know how much I want to talk about the plot, since watching it all unfold was nothing short of exhilarating at times. The last thing I want to do when reviewing a script is spoil it for the audience. There are plenty of websites where you can have that provided for you.

The script begins with Patrick Kenzie (the best role Casey Affleck has ever had) and girlfriend/co-detective Angie Gennaro (to be played by Michelle Monaghan) discovering that Angie is pregnant with their first child. Almost immediately after making this discovery, the two are called in on the case of Amanda McCready, a kidnapped four year old and the daughter of the Helene McCready, who is the kind of mother that makes you appreciate your own mom more than you ever knew you could. They work with cop detectives Remy Broussard (Ed Harris) and chief Jack Doyle (Morgan Freeman) on uncovering what exactly happened to this poor little girl.

You'll probably hear me say "this was a great script" a lot in this space during the coming weeks, mostly because I don't really want to dwell on the bad scripts. It's not fair to bash a movie sight unseen. But I have no problems trying to get more people excited for a movie when what lies on the page is as good and deeply personal as this. The fear of losing a child (or indeed, the fear of loving a child so much) must have been fresh for Affleck with the birth of his own daughter while he was writing this. For all the twists and turns and revelations one expects from a detective movie, it all comes across as a work of passion and personal fears, and it's that edge that, I would venture to say, makes the script something more moving than previous Lehane adaptation "Mystic River." Where Brian Helgeland's script had all the emotions out there on its Oscar baiting sleeve, the emotions here feel real and the fears more painful than you can imagine. It's a scary movie (three sequences in particular sent chills down my spine, most notably a sequence in a pedophile's home) and its third act is so blissful in its moral confusion that I couldn't help think about what I had just read for days afterwards.

For me, what really stuck out in "Gone, Baby, Gone" was the relationship between Kenzie and Gennaro. It's never forced, but it's beautifully realized. They're two people that can clearly take care of themselves, but love each other enough to always stick their neck out for the other. It reads like it could be one of the great on-screen teams, and Affleck's certainly done right by casting two actors that have been on the cusp of hitting it big for a while.

This will be Casey Affleck's movie, and to be frank, it could be his year. He was already the best thing in "Ocean's 13," and his work in the upcoming "The Assassination of Jesse James by the Coward Robert Ford" has been one of the most buzzed performances all year. Add the role of Kenzie to that and I have no doubt we'll be seeing Casey Affleck's name a lot this upcoming awards season, especially amongst critics groups.

Ed Harris has another great role here, as does Boston rapper Slaine as Bubba, a close friend of our heroes. Bubba is all brutality and sin on the outside (you can see him in the trailer), but he loves Kenzie and Gennaro deeply and watching him take care of them (and vice versa) was another highlight in the script.

As far as awards potential goes, I don't think we'll see much. It'll deserve a lot I imagine, specifically for this script and, given the potential, Casey Affleck, but it's not an Oscar picture. It's brutal, it's scary and it doesn't scream Oscar (as many contenders this year do) more so than genre. However, this can certainly be a critic's darling if it rouses the right amount of passion. Why don't we get more detective movies like this, and last year's "Brick?" When did this genre start growing old? I never realized how much I missed a good detective movie until reading "Gone, Baby, Gone."

Next week I'll be writing about what's probably my favorite original screenplay of the year, "Lars and the Real Girl." See you then, and as always, feel free to ask me questions (as spoiler-free as possible please) below.