July 31, 2006
FLAGS OF OUR FATHERS ~ Written by James Bradley and Ron Powers
"It was an image the public had fallen in love with,
seeming to find in it an affirmation of the national purpose
at its very origins that no politician, no history book had ever matched.
The Photograph had become The Fact."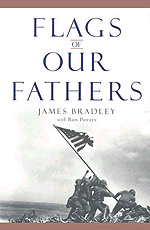 James Bradley's Flags of Our Fathers has much in common with the best of war literature. It also boasts a divergence that makes it unique against the genre, and which could serve to make the film adaptation as unique against the backdrop of war cinema.

Largely personal, the book is Bradley's dedication to his father, John "Doc" Bradley, who was one of seven men immortalized by a photograph taken by Associated Press photographer Joe Rosenthal over 60 years ago. A character driven story more than anything driven by the actual events of World War II in the Pacific, it is perfectly suited as a vehicle for actors' director Clint Eastwood to tackle in his recent string of awards relishing films.

"Flags of Our Fathers" goes to great lengths to fully sculpt the lives of these seven men before making any concerned effort to place them amongst action, let alone action together. The reader learns about each soldier specifically and individually, and this ambivalence about diving into anything event oriented of note is what separates the book from much of its kind. "Flags of Our Fathers" is concerned with people.

It can't be said that Bradley's book is the most arresting war novel written by any stretch. Much of the tale is at times too personal for its own good, seemingly serving an audience of one. But there are enough intimate sketches hear and there that help carry the tale along. And unlike Anthony Swofford's "Jarhead," or Mark Bowden's "Black Hawk Down," "Flags of Our Fathers" doesn't offer the scent of agenda. Not even once. It is the sort of story that might be told in any genre.

Translated to film, one can only assume the story will have the right touch of personality and humanity – especially with a director like Clint Eastwood who is interested in people more so than stories. Taking on the separate roles of importance, a host of actors, known and others perhaps up-and-coming, will fill out an organic ensemble. Ryan Phillippe will star in the more centralized character of John Bradley, while he will be joined by Paul Walker, Adam Beach and Barry Pepper, among others.

There isn't a lot of time spent on action in the book, though that fact might change in Paul Haggis's adaptation. But considering the entire point of the story revolves around the moment that sparked one of the most published photographs in media history, one can't expect much in the way of diverting attention away from that moment. I'm not certain who is playing Rosenthal in the film, or if the character will be given even the modest characterization he receives in one of the books chapters (though it is a fascinating story in and of itself). Regardless, the film, like the book, will most likely live and breathe as an ensemble more so than it will be seen as the vehicle of this actor or that.

A lot of people are looking to "Flags of Our Fathers" as a potential heavy-hitter with the Academy of Motion Picture Arts and Sciences. However, it takes a special touch to garner Best Picture consideration for a war film. The only considerable entries have been either opus-like ("Apocalypse Now") or extremely realistic portrayals ("Platoon"), but always films that altered the medium in some way, shape or form. Do we really expect Clint Eastwood's "Flags of Our Fathers" to do that? Perhaps his spin-off (essentially, that's what it is), "Red Sun, Black Sand" can draw that sort of attention, at least critically speaking. It is, after all, a much more artistic choice to make. But with "Flags of Our Fathers," the possibility is all too apparent for the film to be business as usual.

That is all pure conjecture, of course, but on the page, Bradley and Powers's story is a delicate one and a purposeful one. It is a character study, but not so much an intriguing one as an informative one. Perhaps further strokes of depth will be made through Haggis's work. We shall see.