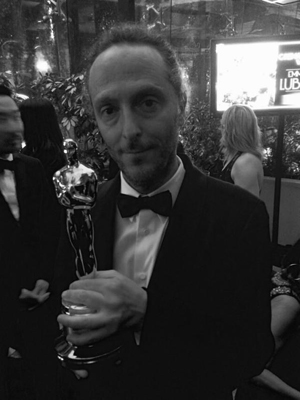 One more tease of our upcoming interview with "Gravity" director Alfonso Cuarón before we dive deep on the four-year journey of making that film. We've asked about his friend Guillermo Del Toro's "Pacific Rim" and the lessons he learned on the embattled production of 1998's "Great Expectations," but today, I was curious about his collaboration with cinematographer Emmanuel Lubezki, or "Chivo," as he's known to his friends and colleagues.
Cuarón and Lubezki have collaborated at nearly every step of the way, from 1995's "A Little Princess" to "Great Expectations," the break-out film "Y Tu Mamá También" to the gritty "Children of Men." And now, the space spectacle "Gravity." It's a fruitful professional relationship that keeps finding new highs.
However, beyond his work with Cuarón, Lubezki has quickly become one of the most respected and accomplished cinematographers in the business. He has collaborated with filmmakers like Michael Mann, Tim Burton and the Coen brothers in recent years, and made a major splash with his work capturing Terrence Malick's visions on "The New World," "The Tree of Life," "To the Wonder" and the upcoming "Knight of Cups."
"Chivo's not only my friend, I'm a big fan of him," Cuarón told me of Lubezki. "I think that he's one of the most interesting filmmakers working around, and when I say 'filmmakers' I'm talking in every single field: directing, actors, producers, cinematographers, sound. I think he's at the very, very top, one of the great geniuses of our day. And also he's always pushing the envelope, which is so refreshing. I just think he's spectacular."
In my opinion, Lubezki should already have at least two Oscars, for "Children of Men" (which, like "Gravity," demanded the invention of technology to achieve Cuarón's vision) and "The Tree of Life" (which…what else is there to say about that one?). But I think those wrongs will finally be righted this year. Of course it's too early to talk seriously about Oscar wins but I'd be truly surprised if Lubezki didn't finally win for "Gravity." Just as films like "Avatar," "Hugo" and "Life of Pi" have dazzled the Academy with their 3D innovations, I expect this film will land similarly.
You'll want to see what Cuarón and Lubezki have conjured this time on the biggest screen possible. Catch "Gravity" when it arrives in 3D and IMAX on Oct. 4.