What can one really say at the end of a season this contentious, this exciting, this tight every step of the way other than: "Gee, that was fun."
It's the word I settled on in the podcast this afternoon and it's the word I'll stick with here. It was fun. It was up, it was down, and I certainly tried not to take it to heart too much. Would I have liked to see Emmanuelle Riva grasping an Oscar on that stage? You bet. But can I really hold too much against an actress in Jennifer Lawrence that I've been praising in this space since "The Burning Plain," a year before most of the industry caught up to her in "Winter's Bone?" Not really. Lawrence is a live wire, a beautiful spirit and a fetching addition to Oscar's lineage. I look forward to her getting better and better from here.
One might have known when the roof blew off of the Chuck Jones Cinema in Telluride, Colorado that "Argo" was destined for Oscar greatness. One might not have anticipated the blowback that came with that inevitability, however. Would I have preferred a number of the other nominated Best Picture players take the stage in victory? You bet. But can I really hold too much against a guy like Ben Affleck who has improved (in my opinion) with each filmmaking endeavor and done one of the hardest things you can do in this business, turned his career on a dime? Not really. "Argo" is not an embarrassing Best Picture winner by any real measure and is emblematic of the kind of workmanship that used to be the status quo. Maybe we should get back to that.
The winners on the whole were difficult to argue, I'd say, despite this or that minor qualm. I was pleased to see Quentin Tarantino clutching another golden guy. The sound editing tie was a historic occasion that, as I mentioned in the podcast, pretty much spoke to how competitive the year was. Ang Lee is a treasure and a gentleman and seeing him breathe that sigh of relief and pride at the end of what was a massive undertaking was nice. All of the films but poor "Beasts of the Southern Wild" (that had really already won so much coming into the evening) got their due. I can't complain at a spreading of the wealth, even if I would have preferred this, that or the other thing.
"Life of Pi" got four, "Argo" and "Les Misérables" got three each, "Django Unchained" and "Lincoln" each got two, "Amour," "Anna Karenina" and "Brave" got one. Oh, and "Skyfall" split one with "Zero Dark Thirty." So is that one-and-a-half total for the former and a half for the latter? Or two for the former, one for the latter? How do you figure that out? Whatever the case may be, the whole thing reads pretty fair to me.
Guy's eloquent send-off to the season is very much in keeping with my own take, honestly. I'm perfectly fine with how things turned out and I'm ready to move on. I can't possibly bog down in thoughts on the telecast because I'm apparently in the minority that thinks, you know what, it wasn't that bad. The fire and brimstone flying this morning, well, the outraged are free to it. I'm just a caveman who laughed his ass off at the sock puppets. Alan Sepinwall gave a fair review of the show from the unimpressed perspective, though, and I'll leave that at that.
Predictions have been accounted for. Not my best showing. Indeed, I think most were down on the whole this year. Even the titans of this stuff (in my view), Pete Hammond and Steve Pond, hit huge snags. But again, in a year as contentious as this, as close as this, one feels a bit safer in stepping just a little farther out onto this or that limb. Alas. No one threw that dart without being a bit blindfolded this year, though. It was truly anyone's guess in a number of areas. And that's what made it so compelling.
So that's that, right? Next year we'll be talking about Alexander Payne, Alfonso Cuarón, George Clooney (again), Nicole Kidman, Naomi Watts, Jason Reitman, Leonardo DiCaprio, Matthew McConaughey (again), Bennett Miller, Woody Harrelson, Christian Bale, Tom Hanks, Ridley Scott, Meryl Streep, etc., etc., etc.
Here's hoping it's half as interesting and enthralling as the 2012-2013 film awards season, which you can relive if you so choose, as always, via The Circuit. And remember, like Mr. Affleck said, it doesn"t matter how you get knocked down in life, because that"s gonna happen…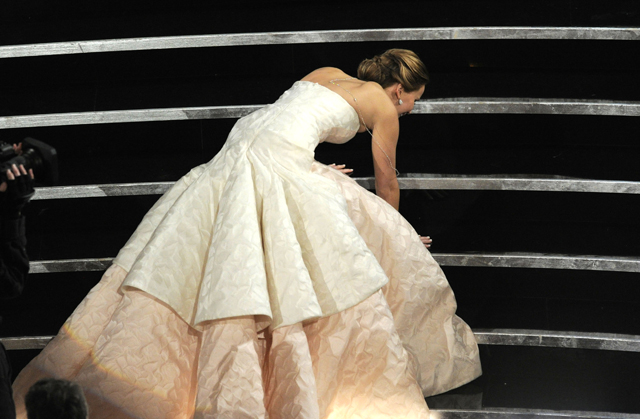 …all that matters is that you gotta get up.
Once again, the winners of the 85th annual Academy Awards are…
Best Picture
"Argo"
Best Director
Ang Lee, "Life of Pi"
Best Actor
Daniel Day-Lewis, "Lincoln"
Best Actress
Jennifer Lawrence, "Silver Linings Playbook"
Best Supporting Actor
Christoph Waltz, "Django Unchained"
Best Supporting Actress
Anne Hathaway, "Les Misérables"
Best Adapted Screenplay
"Argo"
Best Original Screenplay
"Django Unchained"
Best Cinematography
"Life of Pi"
Best Costume Design
"Anna Karenina"
Best Film Editing
"Argo"
Best Makeup and Hairstyling
"Les Misérables"
Best Music – Original Score
"Life of Pi"
Best Music – Original Song
"Skyfall" from "Skyfall"
Best Production Design
"Lincoln"
Best Sound Editing
(tie) "Skyfall" and "Zero Dark Thirty"
Best Sound Mixing
"Les Misérables"
Best Visual Effects
"Life of Pi"
Best Animated Feature Film
"Brave"
Best Foreign Language Film
"Amour"
Best Documentary Feature
"Searching for Sugar Man"
Best Documentary – Short Subject
"Inocente"
Best Short Film – Animated
"Paperman"
Best Short Film – Live Action
"Curfew"
. @theacademy u jst rooind an old ladys 186th birthdy. hope u happy lol

– Michael Haneke (@Michael_Haneke) February 25, 2013
//platform.twitter.com/widgets.js