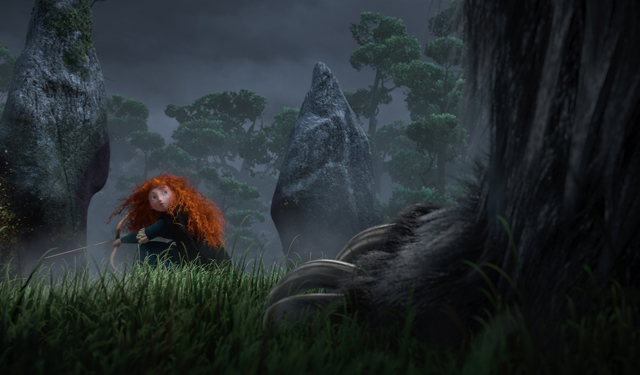 Pixar Animation Studio has claimed its seventh Oscar for Best Animated Feature Film to date. "Brave" may have missed the bar the brand has set in the eyes of many (reviews and box office failed to live up to that of recent successes like "Toy Story 3" and "Up"), but it will be walking out of the Dolby Theatre a winner this evening.
The film's co-director Mark Andrews (kilted, in fact) and Brenda Chapman accepted the award.
The category was perhaps more competitive than it has been in a great many years. Much of that is because Pixar has frequently been the runaway favorite going into the show (the studio picked up four straight from 2007-2010). And when "Cars 2" failed to make much noise last year, Paramount's "Rango" was right there to take up slack.
This year, though, Walt Disney Animation Studios' "Wreck-It Ralph" came on strong at the end of the season, winning big at the Annie and Producers Guild Awards. Tim Burton's "Frankenweenie" was lurking as a sentimental possibility, while LAIKA's "ParaNorman" was also in the hunt. But "Brave" landed a number of industry awards along the way for elements such as visual effects, sound mixing and film editing.
"We wanted to make a very strong-willed, dynamic person, a girl who doesn't need to quest for a 'happily ever after,'" Andrews told HitFix of crafting a very different Disney princess in a respected lineage. "She's just figuring out who she is, and that automatically separates her from the princesses that have come before her."
Unlike recent Pixar entries, this was the only nomination for "Brave" on the night. Pixar's first Best Animated Feature Film Oscar came for "Finding Nemo" in 2003. "Monsters, Inc." lost the prize in the category's introductory year to "Shrek," but will be back for seconds with the sequel "Monsters University" later this year.
Disney's "Paperman," which played with "Wreck-It Ralph" in theaters, won the Best Animated Short Oscar.