(Welcome to the Oscar Guide, your chaperone through the Academy"s 24 categories awarding excellence in film. A new installment hit every weekday in the run-up to the Oscars on February 24, with the Best Picture finale today, February 22.)
And here we are, the final category after two-and-a-half weeks of the 2013 Oscar Guide. I hope you've enjoyed the entries, which you can click back through in the dedicated section below this post. The Best Picture field proved, in its second year of featuring a slate that could include between five and 10 nominees, to be a full one. Nine films were nominated again, and they ran the gamut from foreign languages to political thrillers, big-scale musicals to epic fantasies, scruffy indies to prestige biopics and romantic comedies.
In the end, one film stood out and showed dominance at a time when it appeared to be at its weakest. Whether that perceived weakness was ultimately a source of sympathy is up for debate, but it asserted its dominance nevertheless. And in this, a year when the stats can absolutely go out the window given the shifting of the Academy's calendar and its introduction of online balloting, "history" was going to be made. And so it shall, no matter what happens.
The nominees are…
"Amour" (Margaret Menegoz, Stefan Arndt, Veit Heiduschka and Michael Katz, Producers)
"Argo" (Grant Heslov, Ben Affleck and George Clooney, Producers)
"Beasts of the Southern Wild" (Dan Janvey, Josh Penn and Michael Gottwald, Producers)
"Django Unchained" (Stacey Sher, Reginald Hudlin and Pilar Savone, Producers)
"Les Misérables" (Tim Bevan, Eric Fellner, Debra Hayward and Cameron Mackintosh, Producers)
"Life of Pi" (Gil Netter, Ang Lee and David Womark, Producers)
"Lincoln" (Steven Spielberg and Kathleen Kennedy, Producers)
"Silver Linings Playbook" (Donna Gigliotti, Bruce Cohen and Jonathan Gordon, Producers)
"Zero Dark Thirty" (Mark Boal, Kathryn Bigelow and Megan Ellison, Producers)
Just missing the line-up after showing strength in the precursor circuit were films like "Skyfall" and "Moonrise Kingdom." Chalk their downfall up to any number of reasons, but I would suggest that the campaign for the former seemed a bit reserved, while the campaign for the latter perhaps waited too long to seize the day.
The biggest surprise for most (though as you know, we were calling it around these parts for months) was the fact that Michael Haneke's rigorous "Amour" ended up finding the right amount of passion to secure a spot. Not only that, but it also showed up in Best Director, suggesting that maybe, just maybe, it could have been one of five nominees in a typical year. Perhaps, but its win is this nod (and whatever other Oscars it might pick up elsewhere, of course).
The odds-on favorite quickly became Ben Affleck's "Argo," and with PGA, DGA, WGA, SAG, BAFTA, BFCA and HFPA wins, it's clear to see why. When Affleck was "snubbed" by the directors branch, it seemed all was lost. But quickly, the film turned the corner, and whether by sympathy or, more likely, genuine consensus approval, it has lined itself up to take the big prize. A miss at this stage would be an upset, and in a crazy year like this, you never know.
In many ways, a Best Picture nomination for "Beasts of the Southern Wild" is a testament to the film's power to generate passion, absolutely. But it's also a feather in the cap of Fox Searchlight Pictures, which is a studio that simply knows how to play this game. It even landed a surprising Best Director nomination, which could lead you to believe it has more of a shot in these major categories than most expect. Nevertheless, the fairytale year has been great, but isn't likely to go much farther… is it?
I had my doubts that Quentin Tarantino's brilliant "Django Unchained," the best film of the Best Picture nominees this year in my opinion, would get there. But I hung it out on faith and it showed up at the end of the day. This blatant revisionist tale packed with cathartic violence is a tough sell to the Academy at large, however. It could be recognized in the original screenplay category, but it would be lucky to even have that. It has some support from the Brits, though, evidenced by BAFTA wins.
Early on it seemed to me that Tom Hooper's "Les Misérables" would be our Oscar winner. It has genuine passion in the Academy; members who love it LOVE it. But the lesson learned is that, while passion is great for nominations, it's not necessarily helpful for the win, because a love it/hate it movie, which this one ended up being, is always going to have trouble in a preferential balloting system. Nevertheless, it won the most BAFTA prizes and could win its share on Oscar night.
Ang Lee's visionary "Life of Pi" could land him an Oscar for Best Director. He is, after all, the star of the film in many ways. And it picked up 11 nominations, more than anyone saw coming, surely. It might even be seen as second to the formidable "Argo" in this category, but I wonder about that. It has skipped along with a subdued campaign all year long, which, with all the chatter, was a welcome scenario, frankly. But did it rally enough troops in the end?
Most think that, if not Affleck's "Argo," then Steven Spielberg's "Lincoln" surely has to be considered a strong contender to win Best Picture. But why? Because it netted 12 nominations? Okay, fair enough. But hey, "The Curious Case of Benjamin Button" had 13, so that's not everything. It hasn't fared well on the industry awards circuit at all save for notices for Daniel Day-Lewis and Tommy Lee Jones. Was it ever really the one to beat? If it were to surge to victory now, it would be a surprise, plain and simple.
I would keep my eye on "Silver Linings Playbook" in races for Best Director and Best Adapted Screenplay, which means I would say it's entirely likely that this is the film nipping at "Argo"'s dust rather than films like "Life of Pi" and "Lincoln." It is, along with "Argo," one of the most universally loved films in the Academy and will have its champions for Best Picture, make no mistake. It's also the kind of film that does well with a preferential ballot.
And finally, "Zero Dark Thirty," the great beast that was toppled by Capitol Hill, liberals and conservatives alike, and maybe even some dirty tricks. Kathryn Bigelow's film came out of the gate swinging as the undeniable critics choice, but soon gave way to "Argo" in that respect amid lies and nonsense directed at its depiction of torture. Maybe that kind of thing could have been handled more smoothly or preemptively by publicity, maybe not, but it suffered a gut shot in December and bled out slowly the rest of the season.
Will Win: "Argo"
Could Win: "Silver Linings Playbook"
Should Win: "Django Unchained"
Should Have Been Here: "The Grey"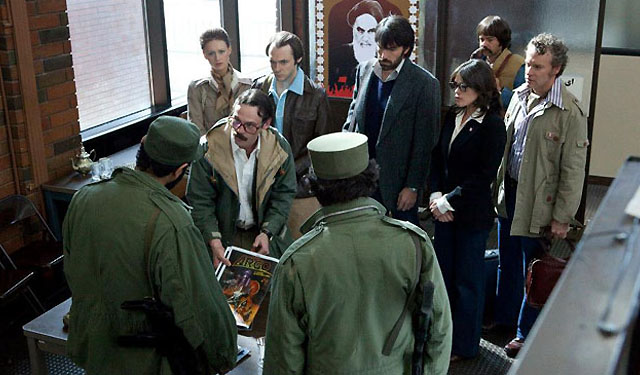 Is "Argo" going to continue its victory march right on through the Oscars or is it going to be stopped by something formidable? Have your say in the comments section below!