(Welcome to the Oscar Guide, your chaperone through the Academy"s 24 categories awarding excellence in film. A new installment will hit every weekday in the run-up to the Oscars on February 24, with the Best Picture finale on Friday, February 22.)
Down the stretch in phase one, and certainly once the nominees had been set in stone, an obvious Best Actor frontrunner emerged as maybe the safest bet on Oscar night. But the Best Actor race was competitive all season long in the nominations stage. A tight seven- or eight-horse race led to surprises here and there in the various precursor announcements, and even a slight one in the ultimate nominations announcement.
SAG nominee and expected contender John Hawkes ("The Sessions") was left on the sidelines, but he joined hopefuls like Jean-Louis Trintignant ("Amour"), Anthony Hopkins ("Hitchcock"), as well as Golden Globe-nominee Richard Gere ("Arbitrage") and BAFTA nominee Ben Affleck ("Argo") on the outside. But the ultimate line-up featured the ill and the impaired, the criminal and the Presidential, as two Oscar virgins joined a trio nominated a collective 14 times over the years.
The nominees are…
Bradley Cooper ("Silver Linings Playbook")
Daniel Day-Lewis ("Lincoln")
Hugh Jackman ("Les Misérables")
Joaquin Phoenix ("The Master")
Denzel Washington ("Flight")
It's strange that Trintignant was left out of this discussion for the most part despite his "Amour" co-star Emmanuelle Riva getting traction in, frankly, an equally competitive Best Actress category. My personal favorite lead actors had no shot this year, but it would have been nice to see the second half of that two-hander slide on in.
While "Silver Linings Playbook" didn't land as smoothly for me as it did a great many other viewers and voters this year, I have always made it clear that Bradley Cooper caught my eye with his performance. Some might snark, "Yeah, but where was the bar?" And that's fair, but he had a spark in that film we hadn't seen before and it was impressive. Given how well-liked the film is over all, he probably ought to be seen as somehwat in the hunt for the Oscar. But the fact is there is the pack and then there is the frontrunner in this race.
So let's get that frontrunner out of the way, shall we? (Just kidding. Alphabetical order did that.) Daniel Day-Lewis was the odds-on favorite for the prize before anyone laid eyes on a moving image of Steven Spielberg's "Lincoln." It just made too much sense. The only thing that was holding the notion back was a record third lead actor Oscar to one guy, particularly five years after his last. Well, those notions went up in a puff as every potential competitor just slammed into Day-Lewis's forcefield and fell in a heap at his feet as he took stage after stage to accept the inevitable this season. Clear a path, people.
One of the last hopefuls with a shot at toppling the king, er, President in the category was Hugh Jackman. But "Les Misérables" was, well, unevenly received, let's say. And critics got their knocks in on Jackman as much as any other element of the film. Nevertheless, he weathered that storm, charmed his way through the circuit (though I'm not saying his performance didn't do the work for this group — it absolutely did) and landed his first Oscar nomination for, in a sense, going back to his theatrical roots. He pulled off the Golden Globe win over Cooper, which I suppose automatically gives him a nose, but truth be told I think they're both on even footing behind the big dog.
People had pretty much called it for "The Master" when the Screen Actors Guild failed to recognize supporting actress Amy Adams and lead actor Joaquin Phoenix. I always had a hunch this one would not play for the Academy, and it unfortunately panned out that way for the most part. But the actors branch stood up in the end for all three of its major hopefuls, including Phoenix, whose raw, charged portrayal has drawn praise and criticism in equal measure. That bit about calling the Oscar season "bullshit" might have stalled him for a spell, but he got here eventually.
Denzel Washington quietly broke an Oscar record this year when he received a Best Actor tip of the hat for his work in Robert Zemeckis's "Flight." He slid past Morgan Freeman as the African American with the most Academy Award nominations to date. And his sixth one came for a powerhouse movie star portrayal in a studio film. It wasn't just a studio film, it was a mid-budget adult drama with a movie star and star director deferring their salary. The result was the kind of film we haven't seen in a while and the industry and audiences took to it. Washington was always, it seemed, going to bear that torch on the circuit, but he was also joined by the project's writer and, well, liver, John Gatins.
Will Win: Daniel Day-Lewis ("Lincoln")
Could Win: Bradley Cooper ("Silver Linings Playbook")
Should Win: Joaquin Phoenix ("The Master")
Should Have Been Here: Denis Lavant ("Holy Motors")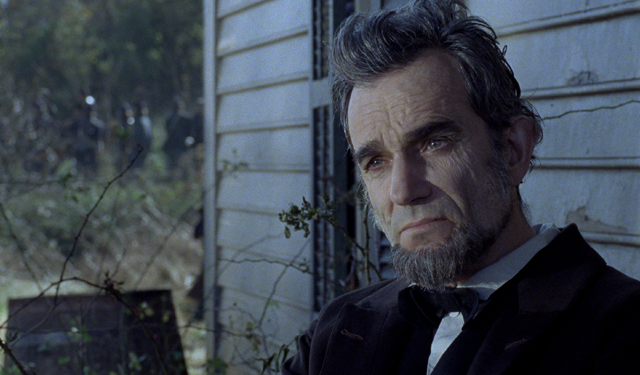 Is there any chance in hell of there being an upset in this category? Speak on that and your favorite Best Actor hopefuls from the year in the comments section below.