(Welcome to the Oscar Guide, your chaperone through the Academy"s 24 categories awarding excellence in film. A new installment will hit every weekday in the run-up to the Oscars on February 24, with the Best Picture finale on Friday, February 22.)
The sound categories this year ended up being quite the race. A publicity angle was even built around the work put into one nominee; it's been the presumed frontrunner for a while for a reason. You never can tell just which side of the Best Picture slate the branch will fall, though. Sometimes detours are taken into high gloss stuff, sometimes prestige takes over. Sometimes there's a balance.
This year featured a bit of a curve ball early on when the Cinema Audio Society added films like "The Hobbit: An Unexpected Journey" into the serious discourse, while the Oscar nominations ultimately yielded, for both sound categories in fact, a bit of a surprise showing for the overall Best Picture Oscar frontrunner. But then, I suppose that shouldn't be such a surprise, in the final analysis. Coattails do exist.
The nominees are…
"Argo" (John T. Reitz, Gregg Rudloff and José Antonio García)
"Les Misérables" (Andy Nelson, Mark Paterson and Simon Hayes)
"Life of Pi" (Ron Bartlett, D.M. Hemphill and Drew Kunin)
"Lincoln" (Andy Nelson, Gary Rydsrom and Ronald Judkins)
"Skyfall" (Scott Millan, Greg P. Russell and Stuart Wilson)
The "Argo" showing is indeed the surprise, and that it knocked out fellow CIA thriller and CAS nominee "Zero Dark Thirty" is even more intriguing. I would like to have seen some branching out to other films with interesting soundscapes this year. "The Grey," for instance, or "The Master." But the branch felt the Best Picture race had enough goodies to choose from.
So "Argo" got an interesting tip of the hat both here and (perhaps even more surprising) in Best Sound Editing. Nothing against the work from John T. Reitz, Gregg Rudloff and José Antonio García, who have been here before with films like "Glory" and "The Matrix" (though this is García's first nomination). It's a crisp track that mingles well with Alexandre Desplat's nominated score. It just feels like overall enthusiasm for the movie might have played a part, small or large. Nevertheless, I think this category features a frontrunner that's holding a steady course. But in lieu of such a strong contender, I would not put it past the Academy ticking off its favorite film overall in this category, just as it's done the last couple of years: and that film this year appears to be "Argo."
The aforementioned "frontrunner," though, is the film that's burning hot on a BAFTA Award for Best Sound and, just this weekend, prizes from the Motion Picture Sound Editors and the Cinema Audio Society: the musical adaptation "Les Misérables." The film is custom built to win a race such as this. Universal shrewdly turned the live singing element into a publicity point and it's in the Best Picture race. Films like "Chicago," "Ray" and "Dreamgirls" have easily turned the trick in years past, and that's before I remind that the only BAFTA/CAS winners to lose this category were "Master and Commander: The Far Side of the World" and "Walk the Line." Andy Nelson has picked up 18 nominations so far, and he's accustomed to being double-nominated (as he is this year). This is Mark Paterson and Simon Hayes's first trip to the dance, though, and it looks like it'll be a happy one.
Beware a film like "Life of Pi," however. Like "Hugo" last year, it's a film with a strong nominations showing and an audio/visual experience that might even be high on Best Picture ballots. Wins in both sound categories frankly wouldn't surprise me (after all, it showed up strong with the MPSE). But one might have expected it to show some dominance at the BAFTA Awards, or at least be nominated by the Cinema Audio Society. Alas, that didn't happen. Doug Hemphill, by the way, was part of the aforementioned Oscar-losing, BAFTA/CAS-winning crews on "Master and Commander" and "Walk the Line." He has won for "The Last of the Mohicans," though. This is Rob Bartlett and Drew Kunin's first nomination.
Andy Nelson is back again with Steven Spielberg's "Lincoln," and he shares the nomination with fellow Spielberg veterans Gary Rydsrom and Ronald Judkins. The team has 40 nominations and 11 Oscars between them. Talk about a powerhouse, and yet, all in service of a modest track. But it's no less creative, bringing in elements like Abraham Lincoln's real pocket watch (a sound editing addition, really, but nicely utilized) and making a very talky narrative sing. I smile just that it got in, but I don't imagine, unless "Lincoln" is somehow a sleeping giant, that a win for something like this would be in the cards.
"Skyfall" is perhaps Greg P. Russell's best shot at that elusive first Oscar to date. He shares the nomination this year with four-time winner Scott Millan and two-time nominee Stuart Wilson. The James Bond extravaganza has a nicely layered track with Thomas Newman's score, the sound editing team's effects and the actors' dialogue all perfectly tuned. If not for the big musical, it may have had a real shot at the gold. But it really does seem like, with BAFTA and CAS going elsewhere, it won't happen. It absolutely could, but the odds are stacking up against them, particularly with the film facing four Best Picture nominees.
Will Win: "Les Misérables"
Could Win: "Life of Pi"
Should Win: "Les Misérables" (but I really, really, really want to see "Skyfall" win)
Should Have Been Here: "The Grey"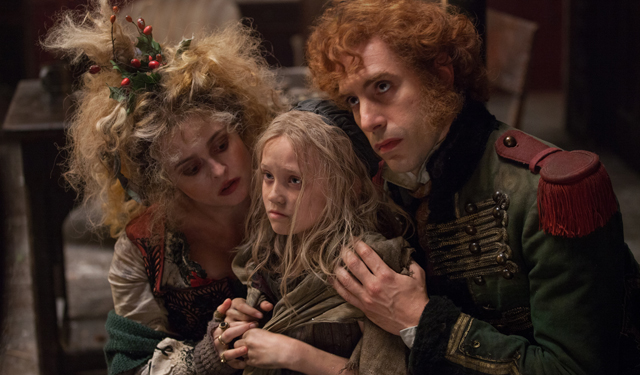 What are your thoughts on the sound mixing race? Would any outcome really surprise you? Let us know in the comments section.