(Welcome to the Oscar Guide, your chaperone through the Academy"s 24 categories awarding excellence in film. A new installment will hit every weekday in the run-up to the Oscars on February 24, with the Best Picture finale on Friday, February 22.)
Along with Best Supporting Actor and Best Original Screenplay, Best Sound Editing might be one of the toughest races to call on Oscar night. The ultimate line-up was a 3/5 match-up with Best Sound Mixing, which isn't uncommon. And the presence of so many Best Picture players is becoming less and less unique as well. But this year in particular, it would seem the race could go a number of ways.
What's worse, the Motion Picture Sound Editors' Golden Reel Awards did very little to clear things up, splitting its wins between the top two contenders. And nevertheless, the sound editors' choices won't necessarily equal the Academy's. The Best Picture frontrunner is right there in this category, tempting votes from those who will want to see it show up strong on Oscar night.
The nominees are…
"Argo" (Erik Aadahl and Ethan Van der Ryn)
"Django Unchained" (Wylie Stateman)
"Life of Pi" (Eugene Gearty and Philip Stockton)
"Skyfall" (Per Hallberg and Karen Baker Landers)
"Zero Dark Thirty" (Paul N.J. Ottosson)
These were mostly some top notch choices from the branch this year. I might have, as ever, liked to see some venturing out into genre territory that can yield unexpected results, though. The two films nominated for Best Sound Mixing that didn't show up here were "Les Misérables" and "Lincoln."
As noted in the sound mixing Oscar Guide, "Argo" could easily surprise with a win here or there. It is, after all, the frontrunning Best Picture contender, and whether it is overly recognized for its sound design is beside the point. The Academy at large tends to just pick its favorite film of the bunch. That same thing played out last year when "Hugo" won over more overtly sound-heavy experiences like "Transformers: Dark of the Moon" (featuring the work of "Argo" nominees Erik Aadahl and Ethan Van der Ryn) and "War Horse." But "Argo" doesn't strike anyone as the sort of film that sweeps on through the categories…or does it?
I would personally love to see "Django Unchained" pull off an upset here as Wylie Stateman's crackling work on the revisionist western was an experience unto itself. He's also been nominated six times now without walking away a winner, so that would be nice to see. But it's hard to really gauge how much the Academy really loves the film, or at least, whether their love could translate to a category like this. Nevertheless, those who do love it have precious few places to chalk it up for some love, and this would be one of them.
Eugene Gearty and Philip Stockton won this category last year for "Hugo," a bit of a surprise honestly given the aforementioned presence of bigger sound plays. They're on "Life of Pi" this time around, which picked up two MPSE wins (the most of any feature) and could be seen as the default second place among the Best Picture films nominated in the category. The sound was absolutely key to the film, as whole stretches are dependent on the aural atmosphere. I would give it the slightest of edges right now, and it could frankly win in both sound categories if "Les Misérables" doesn't end up having the sound mixing vote locked down.
"Life of Pi" seemed ready to sweep the Golden Reel Awards Sunday night but at the last minute, the most coveted prize of the lot (for sound effects and foley) ended up going to the "Skyfall" team, sending this race into a real tailspin. This is, after all, a $1 billion-grossing endeavor that has been considered a bold re-imagining of a series on the occasion of its 50th anniversary. A tribute is lined-up for the show. Surely the film will win SOMETHING, right? But where will voters make their voices heard on it? Will the expected original song victory be considered enough? Per Hallberg and Karen Baker Landers won this category in 2007 for "The Bourne Ultimatum," which took both sound categories and has been seen as a similar case study.
Finally, there's "Zero Dark Thirty," which, after picking up a Cinema Audio Society nomination, was ultimately skipped over in Best Sound Mixing and was just shortlisted here for Paul N.J. Ottosson (who served as both re-recording mixer and sound editor on the film). Three years ago he walked away with a pair of trophies in those disciplines for Kathryn Bigelow's "The Hurt Locker," but this time around, the film hasn't been as widely accepted. Indeed, a dose of controversy has kept any flames of momentum doused along the way. After walking away from the MPSE Awards empty-handed like "Django Unchained," it would appear this one is just happy to be nominated.
Will Win: "Life of Pi"
Could Win: "Argo"
Should Win: "Django Unchained"
Should Have Been Here: "The Raid: Redemption"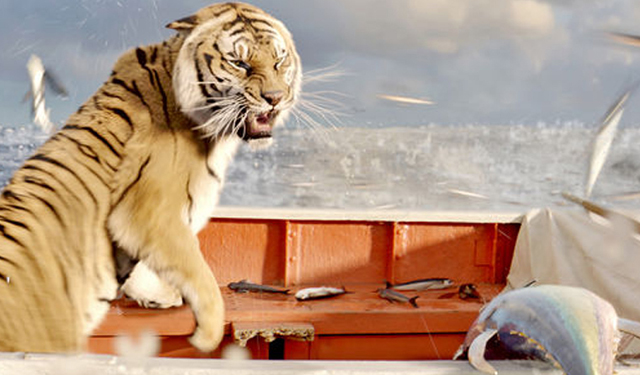 What's your bright idea about how the sound editing category will unfold? Please enlighten us in the comments section below because it's as up in the air as it gets.