(Welcome to the Oscar Guide, your chaperone through the Academy"s 24 categories awarding excellence in film. A new installment will hit every weekday in the run-up to the Oscars on February 24, with the Best Picture finale on Friday, February 22.)
Though it's the second most prestigious award in the Oscar race, Best Director all too often feels, oddly, like an afterthought — it's generally so tied into the Best Picture race that it's come to be regarded as half of a two-part award. Any director of a Best Picture winner who doesn't get his own award is liable to feel somewhat slighted, and vice versa — blame the advent of auteur theory, if you will.
This year, however, the Academy's directors' branch made a stunning statement of independence, albeit one that may have been enabled by an unusually compressed voting calendar. For the first time since 1965, the DGA — traditionally the most reliably Oscar-aligned of all precursors — agreed on only two of the eventual Oscar nominees, as Tom Hooper, Kathryn Bigelow and, most surprisingly, Ben Affleck all missed the Academy's cut. You know the rest: Affleck, who had arguably ascended to frontrunner status before the nominations were announced, has since won everything in sight, including the all-important DGA prize. It's It's an exciting twist that leaves the Oscar race almost unprecedentedly free of bellwethers, as the five men in the running have won scarcely any major precursor awards between them.
The nominees are…
Michael Haneke ("Amour")
Benh Zeitlin ("Beasts of the Southern Wild")
Ang Lee ("Life of Pi")
Steven Spielberg ("Lincoln")
David O. Russell ("Silver Linings Playbook")
The first thing to be said about this field, surprising omissions notwithstanding, is just how interesting and representative it is, spanning the Hollywood old guard, world-cinema royalty and a bristly independent upstart. No one here feels like an insignificant filmmaker, or simply a journeyman who attached himself to the right project: these are five very distinct voices. The directors' branch may have thrown us for a loop, but I think they did themselves proud in the process.
The first non-American director to score a nomination here for a foreign-language film since Fernando Meirelles nine years ago, Michael Haneke may have surprised some pundits in this category, but the truth is that he'd been a firm prospect since Cannes, when "Amour" won him his second Palme d'Or in four years, essentially elevating him to the top of the contemporary auteur pile — the Academy may not be that clued up on world cinema, but they're not deaf to universal reverence either. Other directors in this category may boast flashier work, but Haneke's is the most immaculate — not a frame in this tough-minded love story is wasted, and he conducts the film's exquisite duet of lead performances with impeccable care and compassion. Could he be the first man to win this award for a foreign-language film? The "steak-eater" vote says no, but his followers are devout — and in this very strange year, it doesn't seem entirely impossible, though his likelier reward (beyond an inevitable Best Foreign Language Film win) is in the writing race.
If you'd told me a year ago that Michael Haneke wouldn't even be the most surprising of the Best Director nominees, I wouldn't have believed you. But the inclusion of 30 year-old rookie Benh Zeitlin was one of the category's biggest jaw-droppers in memory — his name was read out last on nomination morning, and who didn't think that "Ben" sound would be followed by "Affleck?" With hindsight, though, perhaps we shouldn't have been so shocked: it was clear throughout the year that "Beasts of the Southern Wild" was a film people felt very strongly about, Academy members included — and it's nothing if not a director's film. The film's gutsy balancing of various vividly realized worlds, plus the impressive performances from its two non-professional stars, are a credit to the modest young New Yorker's fearless vision. The category's youngest nominee since John Singleton 21 years ago, he feels like the longest shot here: but even if he doesn't become the first person since Sam Mendes to win for a debut feature, he still has the industry's attention for whatever he does next.
The remaining three nominees have all been to the dance before, and Ang Lee's Oscar history is trickier than most: surprisingly left off the list for "Sense and Sensibility," he failed to convert his first DGA win for "Crouching Tiger, Hidden Dragon" and, after finally winning for "Brokeback Mountain," endured a painful defeat in the Best Picture category. The presumption for most of the season was that Lee would be an also-ran for "Life of Pi," despite its formidable technical elan — until an unexpected haul of 11 nods for the well-liked but quietly campaigned fantasy, combined with those surprising shut-outs, had some of thinking he could take his second Oscar after all. But "Pi" hasn't really capitalized on that surge in the post-nomination stage: his best shot to gain some heat, given the film's popularity in the UK, seemed to be with BAFTA, but that didn't pan out. Still, while we haven't been given any foreshadowing of such an outcome — a few smaller critics' awards notwithstanding — there's every chance voters will respect the massive logistical challenges Lee pulled off in this film and vote for him anyway.
It's indicative of this very curious year that Steven Spielberg remains the de facto favorite in this category, despite not having won a single significant precursor for his direction of the year's leading nominee. Certainly, the stately, sometimes even chamber-y "Lincoln" ranks among his lower-key directorial achievements, but that could actually count as a virtue for many voters: if you're going to give someone a third Oscar, after all, you want it to be for something you haven't seen from them before. The lingering question is whether Academy voters, who haven't always embraced Spielberg over the years (remember that he, like Ben Affleck, was a DGA winner without an Oscar nomination back in the 1985 race), are ready to welcome him into this category's three-or-more club — which, at present, comprises only John Ford, William Wyler and Frank Capra. Spielberg by now feels like enough of an American institution to rank alongside those names, but if he does, it'll be partly because the directors' branch cleared the path for him.
It's a funny thing when Oscar voters finally latch onto a singular talent who previously seemed a little out of their range: certainly around the time of his ingenious "I Heart Huckabees," you wouldn't have bet money on David O. Russell eventually scoring nominations for back-to-back films. But with "The Fighter" and now "Silver Linings Playbook," Russell has won over the Academy by playing fresh games with Hollywood formula, and exerting deft control over his bustling, hand-picked ensembles. It's particularly easy to imagine a lot of actors checking off his name on their ballot — that nifty stat of the film being the first in 31 years to score nods in all four acting races reflects particularly well on him — but the spiky craft and distinctive rhythm of this acid-laced romantic comedy shouldn't be underestimated. If everyone just saw it as an actor's film, after all, the directors would have included him. Whether his work will be seen as quite substantial enough to surpass Spielberg's gravitas or Lee's formal wizardry is another question.
Will win: Ang Lee, "Life of Pi"
Could win: Steven Spielberg, "Lincoln"
Should win: Michael Haneke, "Amour"
Should have been here: Paul Thomas Anderson, "The Master"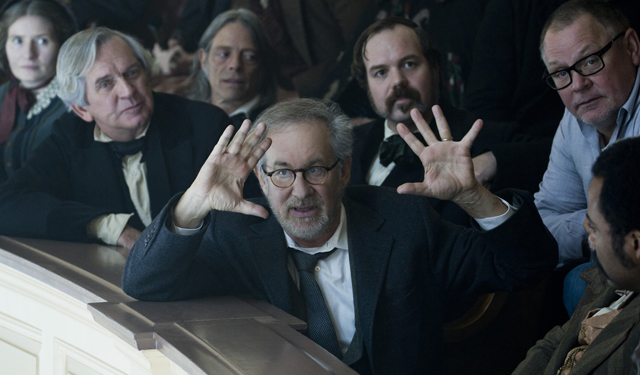 What are your thoughts on the Best Director category? Offer up your predictions in the comments section below.