(Welcome to the Oscar Guide, your chaperone through the Academy"s 24 categories awarding excellence in film. A new installment will hit every weekday in the run-up to the Oscars on February 24, with the Best Picture finale on Friday, February 22.)
The first year of "Best Makeup and Hairstyling" doesn"t suggest much has changed in this category with the hairstylists now being more prominently recognized. We continue to have a biopic where a famous actor was transformed into a famous historical figure, a historical epic with aging and battle wounds, and a fantasy epic which created many a monster.
As this category was whittled down to seven bake-off finalists and three nominees, there were surprise omissions at both the first ("Cloud Atlas") and second ("Lincoln") stages. But for those of us who have watched this category for years, we have come to realize nothing can really be considered a surprise with this lot. And this year, the category is WIDE OPEN. That is refreshing.
The nominees are…
"Hitchcock" (Howard Berger, Peter Montagna, Martin Samuel)
"The Hobbit: An Unexpected Journey" (Peter King, Rick Findlater, Tami Lane)
"Les Misérables" (Lisa Westcott, Julie Dartnell)
I cannot fault this branch for not being too original this time around. I also understand the rationales behind each nomination. But as far as turning famous actors into famous historical figures was concerned, I still preferred the work in "Lincoln." When it came to inflicting gruesome wounds, I felt "The Impossible" was eerily realistic. And I was wowed by the glamour and character-building historical work in "Anna Karenina."
Howard Berger (Oscar winner for "The Chronicles of Narnia: The Lion, the Witch and the Wardrobe) and industry vet Peter Montagna worked hard to turn Anthony Hopkins into the famed filmmaker in "Hitchcock." Martin Samuel (who has two nominations for the "Pirates of the Caribbean" series) designed hairdos that convincingly recreated many Hollywood icons. Transformative biopics frequently win this category (i.e., "The Iron Lady," "La Vie en Rose," "Frida," "Topsy-Turvy," "Elizabeth"). However, this film doesn"t contain the aging apparent in many of those titles. And though not unheard of for a film to win here on its only nomination ("Mrs. Doubtfire," "The Nutty Professor"), it is unusual. I wouldn"t rule it out, but I"d rank this title third of the three in terms of likelihood of winning.

"The Hobbit: An Unexpected Journey" brings us back to Middle Earth. Peter King, a winner here for "The Lord of the Rings: The Return of the King," anchors this crew, and is joined by fellow nominees Rick Findlater and Tami Lane (the latter an Oscar winner with Berger, interestingly enough, for "The Lion, the Witch and the Wardrobe"). Fantastical creations of other races is perhaps this category"s favorite accomplishment ("The Wolfman," "Star Trek," "Pan"s Labyrinth," "Narnia," "Lemony Snicket," two "Lord of the Rings" films, "The Grinch"). Both "Lord of the Rings" movies nominated in this category won, in fact. So one would think the prequel is sitting pretty. My head says it will win. But doesn"t it seem a bit "been there, done that?"
Tom Hooper's "Les Misérables" combines convincing period makeup with battle wounds and aging. Each of those three feats is done with relative subtlety, but all three are appreciated in this category. Lisa Westcott was nominated in back-to-back years in the late 1990s for "Mrs. Brown" and "Shakespeare in Love," and this film is in many ways in keeping with those titles Apart from Samuel, she is the only returning nominee in this category this year who hasn"t won. When nominated, a Best Picture nominee usually wins – "Men in Black" beating "Titanic" is the last exception. This doesn"t fit the mold of a winner to the extent that "The Hobbit" does, but even so, my gut says it will triumph.
Will Win: "Les Misérables"
Could Win: "The Hobbit: An Unexpected Journey"
Should Win: "Les Misérables"
Should Have Been Here: "Lincoln"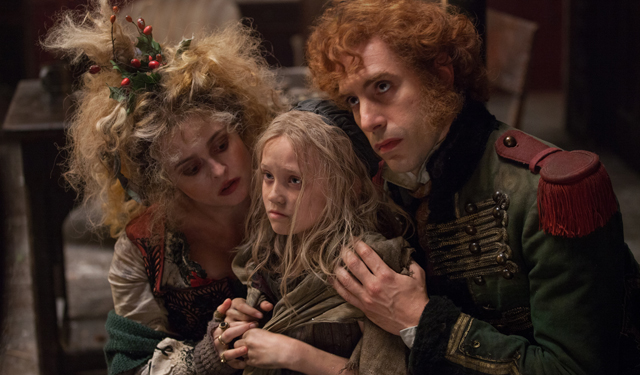 How do you handicap this race? Do you share my discontentment with the nominees? Leave a comment!