(Welcome to the Oscar Guide, your chaperone through the Academy"s 24 categories awarding excellence in film. A new installment will hit every weekday in the run-up to the Oscars on February 24, with the Best Picture finale on Friday, February 22.)
This year's race for Best Animated Feature Film was as competitive as it's ever been. There were a boatload of qualifying contenders (21) and many of them had an angle on a nomination. And after last year's one-two punch from GKIDS, many wondered whether the usual studio product would be laced with indie players, or whether an atypically quality slate of Hollywood toons would dominate the list.
As it turned out, it was the latter, as none of the four GKIDS hopefuls this year found room. But while studios were out in force in the category, one in particularly was tellingly left out of the conversation: DreamWorks Animation's "Rise of the Guardians" failed to land a nod after turning out to be a critical and financial disappointment. It was instead replaced by a surprise nominee from a highly respected animation studio.
The nominees are…
"Brave" (Mark Andrews and Brenda Chapman)
"Frankenweenie" (Tim Burton)
"ParaNorman" (Sam Fell and Chris Butler)
"The Pirates! Band of Misfits" (Peter Lord)
"Wreck-It Ralph" (Rich Moore)
For the most part I'd say the branch got this right, as there's very little room to complain. Nevertheless, GKIDS entry "The Painting" was dazzling and I still wonder if enough animators saw it (as it came up empty at the Annies, too).
Pixar sat it out last year but, despite weathering a lot of "it's not up to par" criticism for the studio's latest, Mark Andrews and Brenda Chapman were able to secure a nod for "Brave" anyway. I've long said that this film has been unduly criticized and I still feel that way. It's a beautiful effort that may not be on the top Pixar tier, but that's still higher than many titles that come along. And while the category this year appears to have an alpha waiting to walk away with the trophy, a win for this one would not surprise me at all. In fact, I'm beginning to lean that way.
Both of Tim Burton's Oscar nominations to date have come for animated features, and this one for "Frankenweenie" is touching given that the director has come full circle on the property that got him fired from Disney nearly 30 years ago. The film is a personal treasure, but it hasn't caught on. Critics liked it, but it stumbled at the box office and didn't net a single Annie Award this past weekend. It would be great to see Burton up there holding an Oscar for this project. The odds appear to be stacked against him, but with a dogfight on the top tier, I actually wouldn't be shocked to see him, well, shock. So to speak.
In case you're wondering, the critics' choice for best of the lot this year ended up being "ParaNorman," from Laika and directors Sam Fell and Chris Butler. Before long it was winning animated feature category after animated feature category, somewhat quietly, and it ended up with 13 prizes total at the end of the day. it really is a lovable take on the theme of bullying and is a refined, smart entry. But despite that critical adoration, Laika may need to wait a little longer for its first Oscar.
The surprising entry was "The Pirates! Band of Misfits" from Peter Lord and the respected Aardman Animations. Perhaps, given the esteem the studio holds, it shouldn't have been that much of a surprise after all. And the variety of having a claymation entry is nice. Nevertheless, I doubt many Academy members even saw the film and it's facing a lot of stiff competition. It's probably least likely to turn up a win, but kudos to the team for landing the nod.
All eyes are on Rich Moore's "Wreck-It Ralph," which mopped up five wins at the Annie Awards Sunday and is just a brilliant piece of work all around. It's also part of the big story within the animation arena this year, which is that it's been a great year for in-house offerings at Disney. With three nominations (including the Pixar title), it dominated the scene, and this film coupled with Burton's made for a terrific home-grown one-two punch. But don't snooze on the possibility of an upset from Pixar. It holds the prestige element and one wonders how much of the superficial pop culture stuff kept voters away from even watching this one.
Will Win: "Brave"
Could Win: "Wreck-It Ralph"
Should Win: "Wreck-It Ralph"
Should Have Been Here: "The Painting"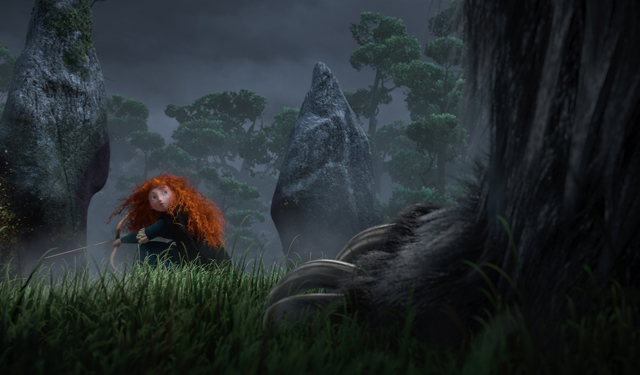 How do you expect the Best Animated Feature Film race to pan out? Are you taking the safe bet or banking on an upset?