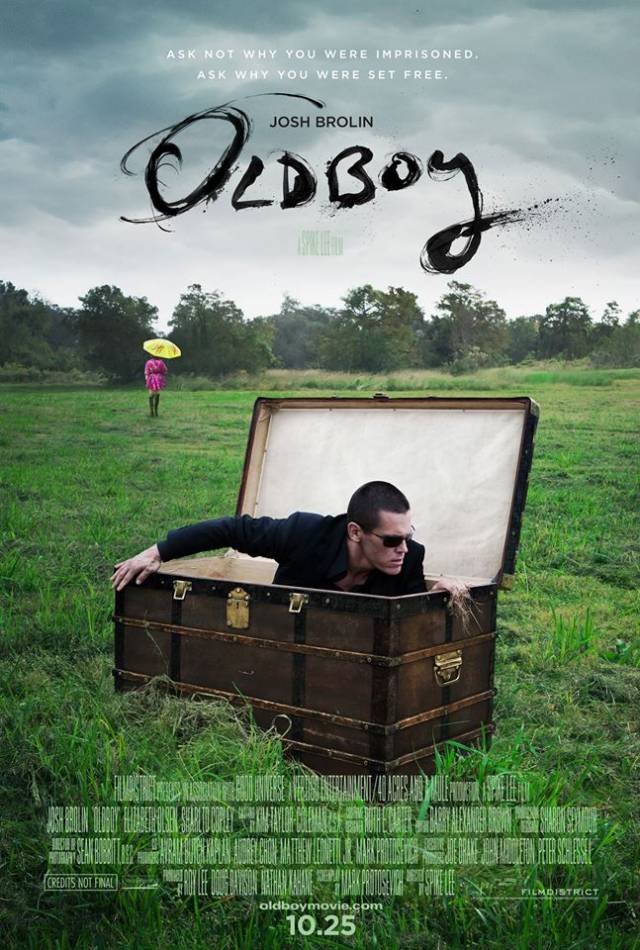 Kris inaugurated our Oscar Bait column, in which we muse on the awards potential of projects still in development or production, a few weeks ago with some thoughts on Tom Hanks's upcoming turn as Walt Disney in "Saving Mr. Banks." Unfortunately, we've neglected to revisit the feature since — as the season ramps up, after all, it's a challenge to see as far ahead as February, let alone to films that haven't even been made yet.
But when promising news dropped last week concerning the long-forestalled film adaptation of Lois Lowry's "The Giver," I pricked up my ears. Pre-production talk doesn't tend to grab my attention, but in this case I was willing to make an exception — not least because I'd been talking with friends about my desire for "The Giver" to eventually reach the screen only two days before. (Sadly, this power to magick a project into being seems to be a one-time deal: I've casually been inserting Wong Kar-wai's abandoned Nicole Kidman collaboration "The Lady from Shanghai" into conversations for a whole week, but no dice.)
My thoughts on "The Giver" were prompted by a discussion about the recent vogue for young-adult literary adaptations with a supernatural and/or futuristic tint — "The Hunger Games," the later "Harry Potter" entries, the "Twilight" films, the forthcoming "Beautiful Creatures" — which variously juice the coming-of-age formula by thrusting parallel-universe adult responsibilities upon child protagonists.
Youth-oriented literature and film has rarely seemed more earnestly fixated on levelling the social and moral playing field between children and adults via extreme story worlds, and it's a movement that makes "The Giver," a 1993 novel by Lois Lowry that is arguably more complex in its environment and weightier in its ethics than any of these currently hot franchises, seem several years ahead of its time. The commercial waters for a film version couldn't be warmer right now.
I first read "The Giver" at the age of 10, right after its publication. By then, I was already a fan of Lowry's candid, unsentimental children's writing, but remember still being surprised by the impressive bleakness and terror of this dystopian fantasy, set in a world of prescribed Sameness, in which human suffering has been eliminated by the collective erasure of memory. All past consciousness is retained by an individual selected as the Receiver of Memory; when 12 year-old Jonas is chosen for the position, and embarks on the process of receiving memories from his predecessor (the Giver of the title), he begins to question the validity of his society's unblemished existence.
Though challenged in some quarters by parental associations who argue that it's subversively anti-authoritarian or even provocative religious allegory, the book — the first in a rough quartet of novels by Lowry — has apparently become something of a North American middle-school standard since its publication. It seems all the more surprising, then, that a film has never come to fruition — though it's been under option ever since it was published. Lowry, however, offered an answer in a recent New York Times interview:
"[I]t seems, Lowry pointed out, that every young-adult book published is a dystopian thriller packed with action sequences. 'And that"s why they"re getting made into movies and mine has been out in Hollywood for 16 years – they can"t figure out where the action is.'"
It looks, however, like Hollywood might finally have located the action. Over the years, assorted names have been temporarily attached to the project: Bill Cosby's production company took the reins in 1994, while around the turn of the century, the film was dusted off as a potential vehicle for Oscar-nominated boy wonder Haley Joel Osment. A few years later, "House of Sand and Fog" director Vadim Perelman was engaged. Nothing stuck.
What I wasn't aware of, however, was that Jeff Bridges bought the rights to the novel early in the process, having been turn onto it by his then-teenage daughter. Back then, the actor planned for his father, Lloyd, to take the title role. He passed away in 1998, while the project languished long enough for Bridges eventually to assume the role himself.
Talk resurfaced this year, with "Harry Potter" helmer David Yates vaguely linked to the project. Last week's news, however, suggested things are firming up a little, even if no official announcement has been made yet: Bridges is still attached, but now it's classy Australian genre-hopper Philip Noyce in line to direct, with prestige merchants The Weinstein Company potentially backing the whole endeavor.
Even assuming it still aims squarely at the young adult demographic, that combination of talent could make for a more prestigious item than, say, "The Hunger Games." As could the entrenched literary credibility of Lowry's novel: as her quote above suggests, it's an exciting but somewhat cerebral work that wouldn't really fit a gung-ho action approach. Noyce's CV, meanwhile, makes it hard to anticipate just what approach he'd go for. Most recently, he's dabbled in high-concept populism with the Angelina Jolie actioner "Salt" and TV's superb nighttime soap "Revenge," but he's aimed for noble respectability, too: 2006's "Catch a Fire" didn't, well, ignite, but 2002's double-shot of "The Quiet American" and "Rabbit-Proof Fence" was more well-received, and even got him a modicum of awards traction. "The Giver" would probably be best served by this side of his brain.
Bridges, meanwhile, is an actor who has recently hit the Academy sweet spot, as evidenced by a recent afterglow nomination for "True Grit" following his long-awaited Best Actor win for "Crazy Heart"; his presence in the grave and substantial role of The Giver could ensure that adults — perhaps even those within the Academy — don't merely see the film as kid's stuff.
What else is on the horizon that deserves the albatross of an Oscar Bait column? Give us some recommendations below.