Things are clicking right along for the New York Film Festival The "Life of Pi" bow certainly was an event, and with added press screenings on the west coast, the film has very clearly set itself up as a formidable awards season contender.
"Flight" is all ready to close out the fest on October 14, and with it, surely, plenty of opinions as to whether Denzel Washington is a player this year. And in the middle, all of the great programming, restorations and events that have gone into making NYFF a big hit in its 50th anniversary.
One of those big events is a "secret work in progress" screening on Monday night that I'll unfortunately have to miss (as I'll be out of town). "Hugo" got the slot last year and it's anyone's guess what it is this time around. I've been told no on "Les Misérables," "Zero Dark Thirty," "Hitchcock," "Django Unchained" and "Promised Land," but it's possible those working on said film aren't even aware. My money is on "Lincoln," which screens for students in New York just two days later.
Anyway, the other big drop in the middle of the fest will be David Chase's "Not Fade Away," the second of Paramount's world premieres here. The press screening is tomorrow morning and the big Alice Tully Hall gala is Saturday night. With all of that around the corner, the film has premiered a new poster via Rolling Stone, and I'd say it's one of the more fetching designs on a poster all year.
Check it out below.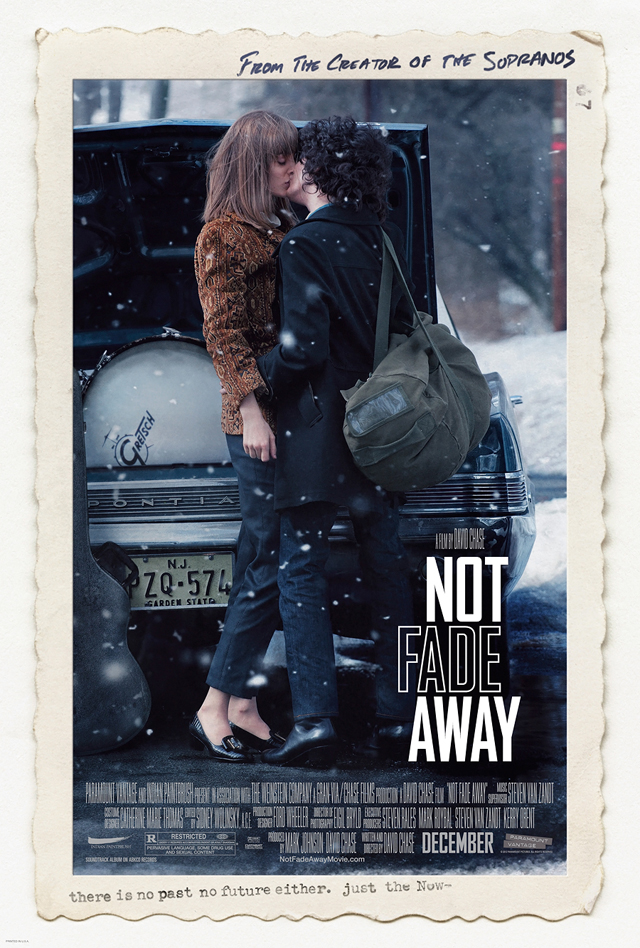 "Not Fade Away" opens in limited release on December 21.