"Little kids grow up discovering the world that's shown to them, and then when you become a teenager, it kind of shrinks a little bit. I think when you get past that point, one of the important things is that you see there is more to the world than yourself. Elaine May had seen an early cut of the film and she said to me, 'Only a teenager could think that she could have that much affect on the world,' which I thought was very interesting and apt and kind of touching and sad."
That was Kenneth Lonergan last year discussing not only his embattled film "Margaret" in a nutshell, but the impact Gerard Manley Hopkins's poem "Spring and Fall" had on him when conceiving the film during our lengthy interview at the height of #teammargaret. And with the DVD/Blu-ray release of the film right around the corner, things are coming full circle in the home video marketing as Fox and the folks at ThinkJam have cooked up an interactive study guide to explain all of the intricacies and connections of the film's plot to the poem.
The DVD, as we've mentioned, includes both the theatrical and extended cuts of the film. An indieWIRE-hosted screening of the extended cut will be held in New York on July 9, while Los Angeles will play host to a similar screening on July 17. Lonergan will be on hand for each, joined by Anna Paquin at the latter.
All of that is well and good but I'm really eager for this film to make its way off the exclusive screening circuit and finally hit shelves, which it will do on July 10. At that time everyone will finally be able to get a look and decide for themselves whether I'm out to lunch for calling "Margaret" the #1 film of 2011 and whether Guy is for putting it at #2.
Speaking of which, Lonergan is attending the on-going Karlovy Vary Film Festival in the Czech Republic (which Guy is covering) today as a special guest along with director Todd Solondz.
Check out the interactive study guide of "Spring and Fall" below. You can view a larger version here. And remember to mark your calendars: July 10.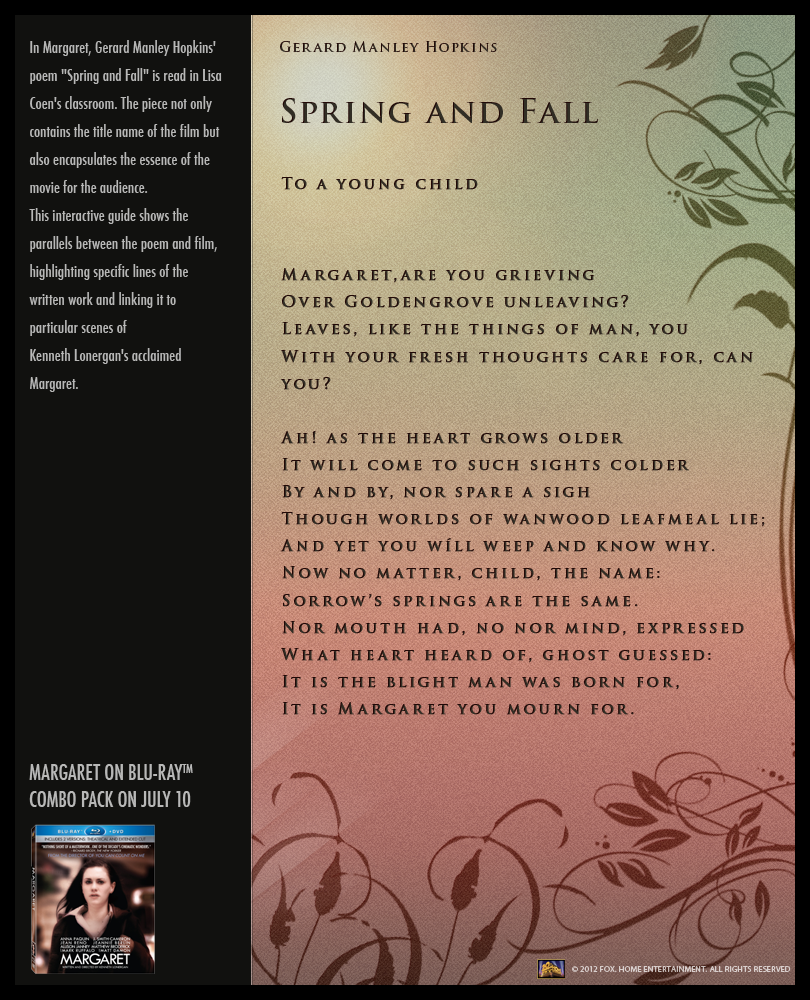 //www.thinglink.com/jse/embed.js#276370028645842945