Principle photography on Sacha Gervasi's Alfred Hitchcok biopic creatively titled "Hitchcock" began last Friday in Los Angeles. The film will star Anthony Hopkins as Hitch with Helen Mirren as his wife Alma Reville.
Well, I guess it's not a true "biopic." Based on the book "Alfred Hitchcock and the Making of Psycho" by Stephen Rebello, the film will tell the behind-the-scenes story of Hitchcock's brilliant thriller. James D'Arcy has been tapped to play "Psycho" star Anthony Perkins while Scarlett Johansson and Jessica Biel will play actresses Janet Leigh and Vera Miles, respectively.
Really, I prefer this kind of a glimpse at a person. The "greatest hits" approach to biopics is tired and rarely profound, but slices of someone's life such as this can be plumbed thematically to give a rich portrait of who they were. The chance to slow down and focus rather than breeze through the highlights for a quick fix more akin to an Encyclopedia entry than a film isn't appreciated nearly enough.
Interesting note on the cast: Michael Wincott will play infamous nutbag Ed Gein, whose twisted story has "inspired" everything from "Psycho" to "The Texas Chainsaw Massacre" (which — SYNERGY! — Roth happened to praise this afternoon) to, indeed, the character that brought Hopkins his Oscar: Hannibal Lecter in "The Silence of the Lambs" (as well as that film's central mass murderer, Buffalo Bill). It'll be interesting to see how he is worked into the narrative here.
Meanwhile, Fox Searchlight has released, via People.com, the first still of Hopkins in full Hitchcock makeup and attire, and he looks PERFECT. Oscar winner Howard Berger ("The Chronicles of Narnia: The Lion, the Witch and the Wardrobe") and two-time nominee Martin Samuels ("Pirates of the Caribbean: The Curse of the Black Pearl," "Pirates of the Caribbean: At World's End") are heading up the makeup department. I think we can get a little crazy and pencil it in for consideration in that category next season.
As for the trivia we all know: Hitchcock himself never won a competitive Oscar in his career. His 1940 film "Rebecca," however, won the Best Picture prize, while he was honored with an Irving Thalberg Award in 1968. He was nominated for Best Director five times, for "Psycho," "Rear Window," "Spellbound," "Lifeboat" and the aforementioned "Rebecca."
"Hitchcock" will be released by Fox Searchlight in 2013. Check out the full shot of Hopkins as the rotund helmer below.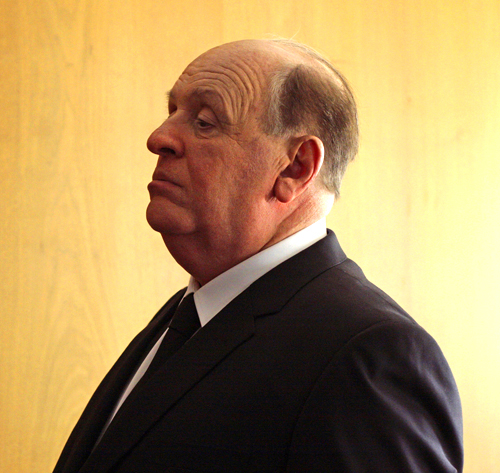 For year-round entertainment news and awards season commentary follow @kristapley on Twitter.
Sign up for Instant Alerts from In Contention!