I was just talking about Tim Burton. The singular filmmaker's work has been on a bit of a "meh" slope in recent years, and "Dark Shadows" was really starting to look like just another obvious piece of material for him to play around with before moving on to the next. But judging by the recently released trailer, the film might just have its share of inspired moments.
I never saw the 1960s television series being re-booted and sent up here, so I have not loyalties or expectations, even. But it seems to me a good time for a film like this amid these vampire-obsessed pop culture days, or at least one without the names Jason Friedberg and Aaron Seltzer on it.
Johnny Depp has the starring role as blood-sucker Barnabas Collins. Joining him will be Michelle Pfeiffer (in her first collaboration with Burton since "Batman Returns"), Eva Green, Chloë Grace Moretz, Helena Bonham Carter (of course), Jackie Earle Haley and Christopher Lee, among others.
Meanwhile, Burton has once again tapped a top-notch below-the-line team for the film, with production designer Rick Heinrichs front and center. (Remember the rule about Tim Burton movies nominated for Best Art Direction: They win.) Costume designer Colleen Atwood, who finally won an Oscar for a Burton movie with 2010's "Alive in Wonderland" will be on threads, of course, but Burton will be working with DP Bruno Delbonnel for the first time, and that's exciting. It appears they've nailed down a striking look. Trusted film editor Chris Lebenzon, etc.
It looks like a blast. "Reveal yourself, tiny songstress" got me big time. Promising. A bit of "Mars Attacks!," a dash of "Edward Scissorhands," etc. Genre-blender/author Seth Grahame-Smith wrote the adaptation. His book, "Abraham Lincoln: Vampire Hunter," produced by Burton and directed by Timur Bekmambetov is due out later this summer. Burton himself also has "Frankenweenie" set for Halloween.
Wait, I just noticed Delbonnel is filling in for Coens regular Roger Deakins on "Inside Llewyn Davis." Interesting.
Anyway, a great trailer for "Dark Shadows," which hits theaters on May 11. Check out the new trailer in HD at Apple or check out an embed, as well as the new poster, below. And tell us what you think by rating it above.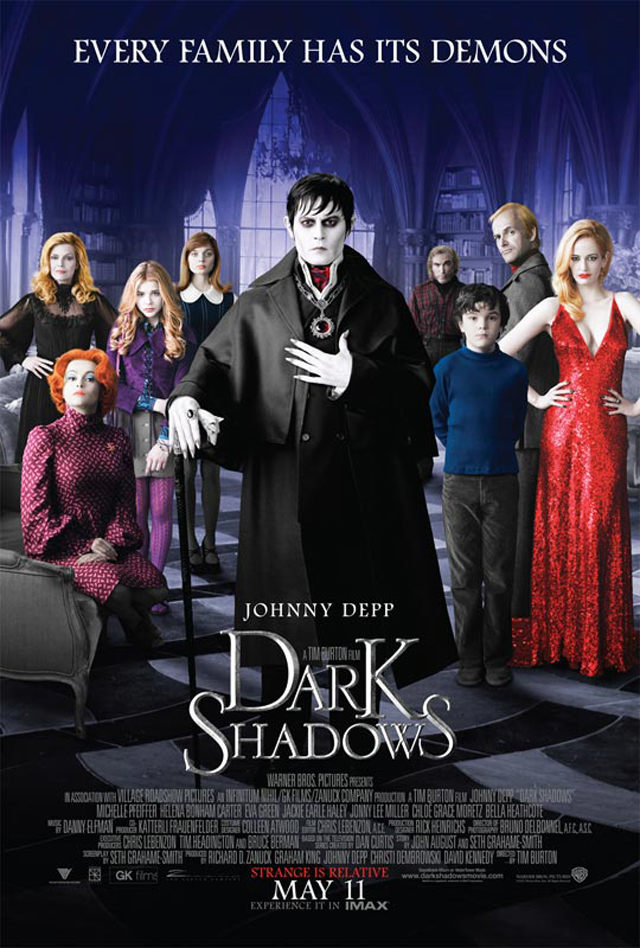 For year-round entertainment news and awards season commentary follow @kristapley on Twitter.
Sign up for Instant Alerts from In Contention!