(The Oscar Guide will be your chaperone through the Academy"s 24 categories awarding excellence in film. A new installment will hit every weekday in the run-up to the Oscars on February 26, with the Best Picture finale on Saturday, February 25.)
On Sunday, five of our leading men will don their tuxes and walk down the red carpet at the top of their profession. Earlier this awards season, it seemed as though this would be a battle between two A-list movie stars. Since then, however, a silent Frenchman has proven himself very adept at charming everyone in sight, and will be difficult to beat.
After predictable nominations for leading turns in three Best Picture nominees, the Academy threw us some curveballs in this category. It ignored another movie star with an Oscary-role in a maligned film directed by a legend, and an up-and-coming British actor who topped off an incredible year with a tremendously acclaimed, if controversial, performance. Instead, we find in the final five a Mexican actor, who has rarely acted in English, in a small message film, and a British stalwart whose nomination-less status had become infamous.
The nominees are…
Demián Bichir ("A Better Life")

George Clooney ("The Descendants")

Jean Dujardin ("The Artist")

Gary Oldman ("Tinker, Tailor, Soldier, Spy")

Brad Pitt ("Moneyball")
Michael Fassbender: take a bow. With his extraordinary performance in "Shame" topping off an outstanding year, 2011 will always remain his. On the note of movie stars, I"m going to state an unpopular opinion: I preferred Leonardo DiCaprio"s always engaging and deep work in "J. Edgar" to the performances that led to two other A-listers being shortlisted. The epitome of a non-showy turn that nonetheless carried his film was Ewan McGregor in "Beginners," and I need to cite the best lead turn by a man who has potentially revolutionized acting: as Caesar in "Rise of the Planet of the Apes," Andy Serkis created a historic character, and gave us possibly the best line reading of the year.
Demián Bichir"s SAG nomination for "A Better Life" seemed like a very union thing to do – cite a hard-working actor, for playing a hard-working man who represents a story we have all heard but so frequently becomes dehumanized. Lo and behold, however, Oscar bit as well! I do not find Bichir"s work as worthy as that of his fellow nominees, but it is impossible not to be touched by it. By citing him, the Academy also tipped their hats to the plight of illegal immigrant workers in the United States. Bichir is clearly going to need to be content with his nomination, being the only nominee from his film, not being due for an Oscar and not having won any precursors, but it's nice to see him in the mix.
George Clooney"s third Best Actor nomination predictably came this year for Alexander Payne"s "The Descendants." Also nominated for writing "The Ides of March," Clooney now has seven nominations overall and this is his fourth for acting. A typically charming performance, he was tremendously sympathetic. A leading statuette seems likely some day, and after BFCA and Golden Globe triumphs, it looked like it might just be this year. Since then, however, the film seems to have stalled a bit. Like "Up in the Air" two years ago, I could see it finishing with zero wins. (I have since backed away from my earlier opinion that this will happen as I now believe it will win screenplay.) There also seems to be a realization that this performance is not that much of a stretch for this modern Cary Grant. I wouldn"t rule him out entirely but his biggest problem of all seems to be…
…Jean Dujardin, who came out the gate with a Best Actor win at Cannes and cruised to frontrunner status in the lead-up to the awards. Despite carrying much of "The Artist" on his shoulders, he tended to be second fiddle to the film"s director, Michel Hazanavicius, and producer, Thomas Langmann, in the early awards circuit. But beginning with his Golden Globe win a month ago, Dujardin began charming everyone in sight. There is no denying that his interviews and speeches have been delightful. More importantly, these awards have highlighted the fact that he carries the Best Picture frontrunner with humor, energy, grace and charisma while (almost) never using his voice. Now with BAFTA and SAG awards, the Oscar seems his for the taking.
Say it out loud: Academy Award nominee Gary Oldman. Feels good, no? While not my favorite performance of the final five, Oldman is nonetheless the nominee I was happiest to see announced. As George Smiley in "Tinker, Tailor, Soldier, Spy," he put thirty years of acting experience into crafting the wise, observant protagonist of John Le Carré"s novels, making every line reading count and saying so much with both his voice and his face, despite never showboating. After his failure to win the BAFTA, it is safe to say that he should merely be seeking to enjoy Sunday night. But a nice night in Hollywood he deserves. Here"s hoping this nomination leads to more great roles heading the way of the man who gave us Sid Vicious, Joe Orton, Lee Harvey Oswald, Count Dracula, Sheldon Runyon, Sirius Black, Jim Gordon and many, many more.
There is no doubt that Brad Pitt"s fine effort is much of the reason we cared about Billy Beane, the protagonist of Bennett Miller"s semi-biopic "Moneyball." When combined with his (even better, in my opinion) work in "The Tree of Life," it adds up to a great year for the actor, who earned LAFCA and NSFC awards for his two performances. I have little doubt that Pitt, also nominated for producing the film, will win this category eventually. But after losing the BFCA and Golden Globe to Clooney, and the SAG and BAFTA to Dujardin, this does not appear to be his year. Like Paul Newman, another great actor who was also frequently considered a great movie star and humanitarian first, I suspect Pitt may have to wait a while before his colleagues finally give him his due.
Will Win: Jean Dujardin in "The Artist"
Could Win: George Clooney in "The Descendants"
Should Win: Jean Dujardin in "The Artist"
Should Have Been Here: Michael Fassbender in "Shame"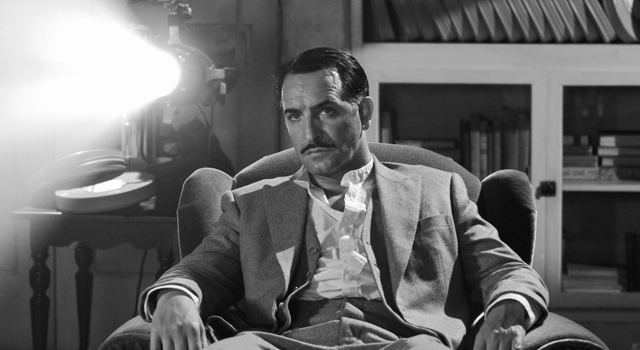 Keep track of our current rankings in the Best Actor category via its Contenders page here.
What do you think deserves the Oscar for Best Actor? Who was robbed? Have your say in the comments section below!
(Read previous installments of the Oscar Guide here.)
Join the In Contention Oscar pool here!
Sign up for Instant Alerts from In Contention!