Well. This is a first.
Every year when I wrap up the annual shots column, there are inevitably a few images that linger into my mind and make me wish I had considered them a little more, or make me wish they hadn't hidden from my memory until it was too late. But never has such a shot hit me so hard that I could legitimately say it might have been my top choice.
Yesterday I sat down to watch the documentary "Undefeated" again in preparation for today's Oscar Guide on the doc feature category. I've actually revisited each nominee because, it's such a close race, I felt I needed to dig through each one a second time. In any case, an image in the film's final moments stood up and shouted out to me, demanding retribution.
The film, as you likely know, recounts a season of football at the embattled Manassas High School in Memphis, Tennessee, and the shot in question comes at the conclusion of the final game depicted (the outcome of which I won't spoil). The camera moves in on coach Bill Courtney as he hugs one of his successful players, OC Brown. He buries his face in his pupil's shoulder as the mic picks up the words he pushes through tears. Starting on OC's face, we circle around the embrace. However, when the camera comes back around to OC, a single tear has streaked his cheek, the first of many as we push in on his face and capture a very real, very raw moment.
This shot is phenomenal. It certainly brought tears to my eyes (one of a couple of moments in the film that do that, in fact) and is just so expert in its simplistic execution.
I don't know who is responsible for the shot. I thought about tracking the thing down and getting on the phone with someone applicable, but I actually decided against it. I don't want to explore it too much because it's so pure on its own. So whether it was Daniel Lindsay or T.J. Martin (co-directors of the film who also shot it themselves) or some other department hired hand who was behind the camera for that moment, if you're reading, just let me say this: Bravo.
Unfortunately, the column came and went, but the opportunity to spotlight this achievement simply could not.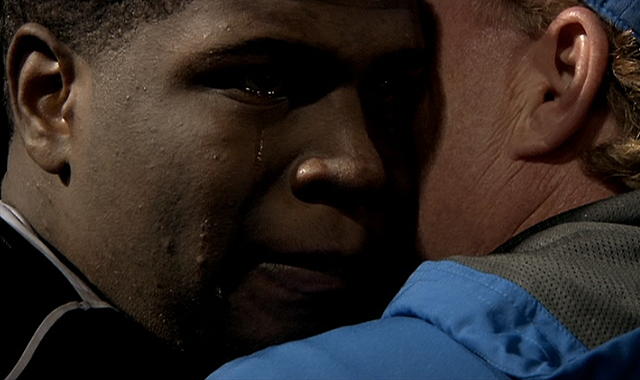 For year-round entertainment news and awards season commentary follow @kristapley on Twitter.
Sign up for Instant Alerts from In Contention!