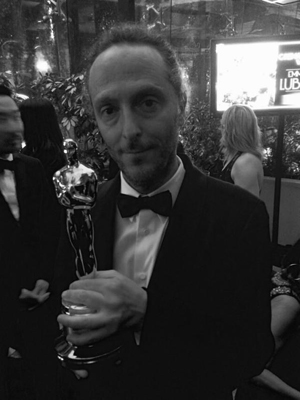 "I learned that everything I knew, I had to get rid of it," cinematographer Emmanuel Lubezki says when prompted to recall his collaborations with director Terrence Malick and, particularly, the work done five years ago on "The Tree of Life" (which finally hit theaters in May of 2011). The celebrated lenser has nearly run the table on precursor awards this season, most recently adding an ASC win to his list of laurels. An Oscar nomination in tow, he is considered the odds-on favorite to win the Oscar next Sunday.
But the experience of working on a Malick film is drastically different than the goings-on of a typical film set. And a photographer's work, much like an actor's, is collaborative at the start, but ultimately an element to be manipulated to the director's will. Fans of Malick wouldn't have it any other way, because the end result is often something so unique, at the very least. But while some on a crew or cast might chafe at having their ego squashed like that, Lubezki finds it liberating and educational.
"The movie goes through a metamorphosis," he says. "There's a script, but he writes every morning. And then you go through another one in the editing and when the sound comes in. He cuts and cuts again and then as we are color timing the movie, he finds new things and he keeps changing. So you are never 100% sure where the shots that you are shooting are going to end up in the movie. But I think he does know when he is miles ahead of everybody on the set and he's already planning and thinking and creating all these scenes that are probably not on paper, but in his head."
On 2005's "The New World," Lubezki's first collaboration with Malick, the lenser says he was, naturally, less at ease with the process. "I was very worried about things that you learn in school," he says, "like continuity and stuff like that. But as you work with Terry, little by little, you realize that a lot of the stuff that you learn is unimportant."
On "The Tree of Life," it was a mission of patience as well. And not just patience but maybe a little luck, too. Added to the abstract manner in which Malick collaborates as an artist, much of the film was about capturing genuine moments with children.
"You shoot and shoot and shoot and you feel you are not getting anything that feels honest," Lubezki says, "or that you are restricting the kids because of the way they are not in frame or things like that. And Terry just has that instinct. He pushes it to a place where these wonderful accidents start to happen, the good accidents that feel unrehearsed and more honest. They suddenly appear in front of you and you have to be ready to get it.
"When you see in the movie the first step of a kid, it is the first step of this little kid. If you do the same thing for a commercial, you get five kids and they already walk, but you pretend that it"s their first step. But it feels rehearsed or it feels set up. You have to be ready to capture all these things that could just fall away in a second and it"s beautiful."
One such moment in the film Lubezki calls "probably the best thing [he's] ever shot." The scene features actress Jessica Chastain and the child actor playing a very young Jack (later played by Hunter McCracken and Sean Penn at other stages in the character's life). It comes on the heels of the birth of Jack's brother, R.L., and as Chastain holds the baby, Jack throws a jealous tantrum. He takes a toy and starts to throw it at Chastain and the baby, then thinks better of it and tosses it aside.
"That is such a true moment," Lubezki says. "I have kids and I've seen it and it"s fleeting. It disappears. You cannot talk to a 3-year-old and say, 'Hey, man, listen, this is the first time you see your brother.' It has to happen in front of you and with Terry, these things happen. He allows them to happen and it"s not like he"s waiting, but there is a little of that with shooting and shooting and shooting and suddenly something like that happens. And when it happened, I remember feeling such an emotion. I was about to cry."
It's possible Lubezki — "Chivo" to friends and colleagues in the filmmaking community — finally wins an Oscar this year for his work on "The Tree of Life." It's possible, too, that he's leap-frogged for something less-inspired (which would hardly be a first). But it's clear talking to the somewhat shy craftsman that the award really has been in the work so far, and the excitement of collaborations to come. He says working with Terrence Malick has changed his life. So what impact could a little statue possibly have in the face of something that profound?
"Watching Terry's movies when I was young, it was one of the reasons I wanted to become a cinematographer," he says. "So it's incredibly lucky that I get to not only work with him, but wander and walk with him and listen to him and learn. It's fascinating."
For year-round entertainment news and awards season commentary follow @kristapley on Twitter.

Sign up for Instant Alerts from In Contention!