(The Oscar Guide will be your chaperone through the Academy's 24 categories awarding excellence in film. A new installment will hit every weekday in the run-up to the Oscars on February 26, with the Best Picture finale on Saturday, February 25.)
US audiences will once again get a chance to see the Oscar-nominated shorts this year as Shorts International (via ShortsHD) and Magnolia Pictures will be launching its popular program for the seventh-straight year. The nominees for animation, live action and documentaries (included for just the second year) will hit 200 theaters across the country for a limited time on February 10.
This year's crop of contenders in the animated field is a bit thin compared to years past, I feel. There's a great diversity of craft, which is always nice — and typical, as the branch generally does a good job of representing a solid cross-section. However, I just wasn't as taken with as many of the nominees as I usually am. Nevertheless, personally speaking, one entry really stands out above the rest and could be the winner. Though, of course, we know what assuming can do for us in this category. It's always a fresh race and this year might be no different.
The nominees are…
"Dimanche (Sunday)" (Patrick Doyon)

"The Fantastic Flying Books of Mr. Morris Lessmore" (William Joyce and Brandon Oldenburg)

"La Luna" (Enrico Casarosa)

"A Morning Stroll" (Grant Orchard and Sue Goffe)

"Wild Life" (Amanda Forbis and Wendy Tilby)
We have computer animation and traditional animation both well-represented, though nothing in the stop-motion vein this year. But I have a feeling a certain studio will finally grab this statue after a long drought in the category.
I liked the exaggerated traditional style of "Dimanche (Sunday)," directed by first-timer Patrick Doyon. And it ultimately has an unbridled imaginative visual streak that is tough to begrudge. But it didn't really click for me. It has a single moment of nifty metaphor (equating a gaggle of chattering family members to crows cawing on a phone line), but it doesn't really have the density to carry it much further than this or that neat beat. From a craft perspective, the crude animation is endearing and interesting, but it doesn't feel entirely unique, either. The film is one of three nominees here, though, that was also nominated for an Annie Award.
There is a lot of playful creativity to be found in "The Fantastic Flying Books of Mr. Morris Lessmore," which marks animation producer William Joyce's ("Robots," "Rolie Polie Olie") debut at the helm. He's nominated alongside co-director Brandon Oldenburg. It could be something to watch for with its thematic color bursts, flip-book odes and concentrated dose of emotion. Joyce is an accomplished illustrator and animator who has published "New Yorker" covers and worked with Pixar in the early days. In addition, there is an interactive book app to go along with the film for the iPad, so as it pertains to progressing the medium, this one certainly stands out for that.
Pixar's "La Luna" (also nominated for an Annie), from gifted director Enrico Casarosa, seems like it could be the one to be the one to beat here. Ever since I first saw it at Telluride, I've been enamored by its beauty, vibrant imagination and thematic virtue. It's a fairytale of sorts, but it's also about forging your own way. And it's easily the best Pixar short in years (perhaps ever). It's interesting that a film from the studio could be in a position to win in a category that has eluded its filmmakers for so long in the same year that the feature category saw its first snub to date. The short will appear in front of this summer's "Brave" and could have a big feather in its cap by that time should it come out on top here, but a losing streak like the one Pixar has does make you wonder if there's just a bit of bias going on.
Casper G. Clausen's "The Chicken," published in "The New York Literary Review" in 1986, provides the seed for "A Morning Stroll," quite the unique entry with it's brisk pace and and colorful personality. Clausen's thing is really just a brief yarn (collected by Paul Auster in the volume "True Stories from American Life") about a chicken walking down a New York street, hopping up a few stairs and rapping on a door with its beak before being let inside. Filmmakers Grant Orchard and Sue Goffe use that to spin in a very different direction, but ultimately it's a bit slight compared to the others, so I'd say it's the least likely to register. It was, however, the only nominee to also be chalked up for a BAFTA award, and it also just won a jury prize at Sundance last week.
Another one to watch for here might just be "Wild Life," the third and final Annie contender of the lot, from former nominees Amanda Forbis and Wendy Tilby ("When the Day Breaks"). The film is quite striking with its rugged, painterly quality. That quality is meant to reflect the great wild frontier of the film's setting as a young Englishman lights out for the Canadian territories. Interspersed throughout are factoids about comets, meant to parallel the main character's journey and fate. It's a bit abstract here and there but it tells a streamlined, thematically rich story with vivid animation and novel visual ideas, so I could see it getting some major support within the branch.
Will win: "The Fantastic Flying Books of Mr. Morris Lessmore"
Could win: "La Luna"
Should win: "La Luna"
Should have been here: (abstain)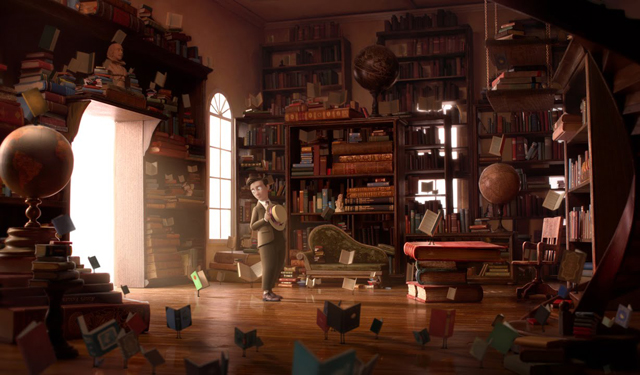 For year-round entertainment news and awards season commentary follow @kristapley on Twitter.
Sign up for Instant Alerts from In Contention!