(The Oscar Guide will be your chaperone through the Academy's 24 categories awarding excellence in film. A new installment will hit every weekday in the run-up to the Oscars on February 26, with the Best Picture finale on Saturday, February 25.)
After seeming an excitingly scattered race for much of the season, Best Supporting Actress solidified with curious rapidity in the weeks leading up to the nominations. By the time ballots were in, only six names were seriously in contention for a slot — and as we predicted, a strong Best Picture vehicle wasn't enough to get SAG-snubbed 20 year-old Shailene Woodley across the line.
What we have is a respectable if not terribly enterprising selection of performances, with one broad turn in a summer comedy smash crashing the polite prestige party, one seasoned British stage vet preventing a complete slate of first-time nominees, one pair of twin turns from the same film (for a fourth year running) and — strangely — two unrelated performances that both hinge on a scatalogical plot point. Shit happens.
The nominees are…
Bérénice Bejo ("The Artist")
Jessica Chastain ("The Help")
Melissa McCarthy ("Bridesmaids")
Janet McTeer ("Albert Nobbs")
Octavia Spencer ("The Help")
The list of worthy outsiders is a long one. Since last February, Vanessa Redgrave had been rightfully tipped for a nomination for her stonily brilliant work in "Coriolanus," but somehow The Weinstein Company couldn't draw eyeballs to the film. There was hope for Carey Mulligan to ride Michael Fassbender's buzz to a nomination for a career-best turn in "Shame"; both were ignored. And we can only wonder what might have happened for the superb Jeannie Berlin if Team "Margaret" had got mobilized a month or two earlier. Spilt milk, and all that.
Unless you're a particularly thorough student of recent French cinema — or just happen to be a rabid fan of "A Knight's Tale" — chances are Bérénice Bejo is a new face to you. That works rather neatly in her favor in Best Picture frontrunner "The Artist," where she plays overnight sensation Peppy Miller, a bubbly movie fan plucked from obscurity and groomed for stardom by leading man George Valentin, only for her celebrity to swiftly surpass his. Bejo, the wife of director Michel Hazanavicius, handles the silent film's trickily stylized physical comedy and melodramatic with gangly appeal and aplomb. It's really a leading role (and nominated as such by BAFTA), but the extra screen time bolsters her chances, as does the film's general momentum. She's the spoiler to watch in the race.
If Bejo is merely playing a suddenly ubiquitous It girl, Jessica Chastain really is one: it seems almost unthinkable that this time last year, I had yet to encounter the striking redhead on screen. 12 months and seven films later, Chastain has arrived in a way few American actresses have since Meryl Streep in the late 1970s. She's reaped highbrow critical plaudits for arresting indie work in "Take Shelter" and Best Picture nominee "The Tree of Life," but the Academy did the right thing in nominating her for "The Help," her best role of 2011: as the dim but unexpectedly liberal bimbo Celia Foote, she's the film's sparky moral lynchpin, smartly locating tender personal and political nuances in the script's rather simple-minded characterization. There's a chance fans of her collected body of work last year will concentrate enough votes here to cause an upset, but the presence of a more favored co-star in the lineup is a setback.
Melissa McCarthy's is an unusual case: when zesty fem-com hit "Bridesmaids" was released back in May, there was much audience affection for her spirited sidekick turn as the bawdiest, horniest member of the wedding party, but no one suggested her as a possible Oscar contender. As the year progressed, however, things slotted neatly into place for the TV-rooted comic: the film became a pop phenomenon, she won a surprise Emmy for her sitcom "Mike & Molly," her public profile skyrocketed and her place in the awards conversation cemented. It's hard not to be happy for her, though I wish I was higher on the performance: McCarthy's ribald comic schtick is often inspired, but doesn't gel with the ensemble as smartly as some of her co-stars. The nomination is her reward — but it's no minor one, given the career boost she's already enjoyed.
12 years ago, Janet McTeer bucked the odds to earn an unlikely Best Actress nod for microscopic indie "Tumbleweeds": Hollywood didn't really come calling for the tall, RADA-trained British thesp, and she's been mostly working in theater and television ever since. "Albert Nobbs," in which she plays brusque, bolshy, cross-dressing house painter Hubert Page, represents a rare opportunity for the actress to let loose on the big screen, and she seizes it with both hands — and one of the most jaw-dropping bosom unveilings in the history of cinema. Where co-star Glenn Close's Oscar chances nosedived with the Irish period piece's tepid reception, McTeer has actively benefited from the film being the teensiest bit awful: being the earthy life force of an otherwise inert vehicle is often a sound route to Oscar attention, and so it is here. She won't win, but here's hoping a second nom nets her better opportunities to strut her stuff.
For playing the stroppiest character with the tangiest individual narrative in the generous female ensemble of "The Help" — there are dramatic opportunities aplenty for her co-stars, but only she gets to say, "Eat my shit," and mean it — Octavia Spencer has been the default favorite in this category since August. While I kept expecting someone to overtake her in the intervening months, the Critics' Choice and Golden Globe Awards proved that no one is tiring of the long-toiling character actress's onscreen 'tude and offscreen charm, and I see little reason why SAG and the Academy won't follow suit. A second viewing of the film revealed nervy dramatic subtleties to her work beyond the irresistible shit-pie punchline, and she benefits from having fellow nominees Viola Davis and Jessica Chastain as scene partners throughout. If the year's highest-grossing Best Picture nominee is rewarded in only one place, it'll be here.
Will win: Octavia Spencer ("The Help")
Could win: Bérénice Bejo ("The Artist")
Should win: Jessica Chastain ("The Help")
Should have been here: Vanessa Redgrave ("Coriolanus")
Keep track of our current rankings in the Best Supporting Actress via its Contenders page here.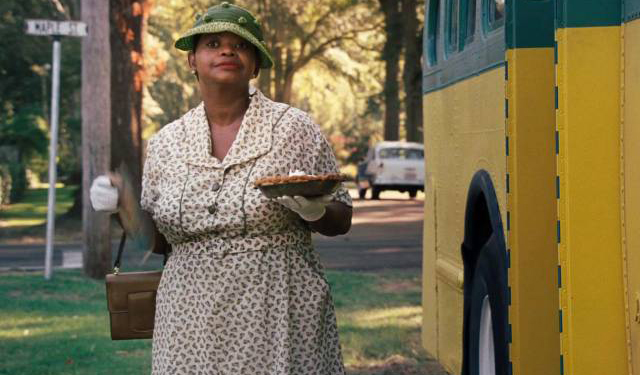 Who do you think deserves the Oscar for Best Supporting Actress? Have your say in the comments section below.
For more views on movies, awards season and other pursuits, follow @GuyLodge on Twitter.
Sign up for Instant Alertsfrom In Contention!