Page to Screen: LITTLE CHILDREN
NOTE: Just a heads up - the following "Page to Screen" column was written prior to my screening Todd Field's film last week. A review of the completed product will follow in the coming weeks. Stay tuned for that.
"She was here because he said he'd run away with her, and she believed him – believed, for a few brief, intensely sweet moments, that she was something special, one of the lucky ones, a character in a love story with a happy ending."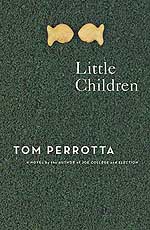 Tom Perrotta's "Election" changed the careers of filmmakers Alexander Payne and Jim Taylor when they adapted the novel to critical acclaim in 1999. Tapping into a deep-seeded introspection of sorts that was vibrantly captured on screen, Perrotta's singular voice could be sensed even through Payne and Taylor's already developing heavy dosage of intellectual panache.

Taking the reins of a Perrotta adaptation this year is "In the Bedroom" helmer Todd Field. Leaving the brooding sensibilities of Andre Dubus III behind for the less plot-concerned Perrotta, and providing for what should be an intriguing character study above all else, Field seems, even with one film behind him, to be the right sort of filmmaker to take a crack at this novel.
CONTINUE READING "PAGE TO SCREEN."