http://players.brightcove.net/4838167533001/BkZprOmV_default/index.html?videoId=4911145572001
Eager online press got a look at George Miller's "Mad Max: Fury Road" Wednesday night in Los Angeles, with the filmmaker on hand to discuss his return to the world of his visionary debut with fellow director Edgar Wright. The unrelenting, cacophonous vehicular gumbo, which is all set to be unleashed on unsuspecting attendees of next month's Cannes Film Festival, hardly feels like the product of a 70-year-old man. And indeed, Miller's enthusiasm for discussing the work was as palpable as that pulsing through every innervating moment of the film itself.
"I thought I was done on the first one," Miller said of the original film. "Then the second one came along and it was a way to try it again and do something better. I was just learning how to make films. I'm still learning how to make films. But these things stay in the back of your head and they keep popping up and they won't go away. Pretty soon you become obsessed. Then one day you find yourself in the middle of that," he said, pointing to the blank screen that had just showcased his opus.
The journey for "Fury Road" began well over a decade ago, however. Miller was all set to dive in on the project, a reboot of the original franchise with Tom Hardy in the iconic Mel Gibson role, in 2001. But the American dollar collapsed in the wake of 9/11 and the budget ballooned. Then unprecedented rains in the Australian Outback left flowers where there was once red desert, hardly the proper setting for a world marked by a lack of water. The production waited a year for it to dry up, but it never did, so everything was relocated from the east coast of Australia to the west coast of Namibia in Africa.
In the interim, Miller kept busy in the world of animation. He directed the 2006 film "Happy Feet" for Warner Bros. and its 2011 sequel. He said he learned a great deal working in that medium, lessons that would go on to inform "Fury Road."
"Polanski, a master filmmaker, said there is only one perfect place for the camera at any given time," Miller said. "When you shoot animation, and you have exactly the same performance, exactly the same words, exactly the same lighting, but you shift the camera, you're virtually able to prove that. You can experiment with the camera in animation with no cost. And you would find, as best as you could, that ideal place…That's why I think some of the best filmmaking comes out of places like Pixar and DreamWorks and all the animation houses, because they know where they can put the camera."
It reminded him of his early epiphanies about the language of cinema, growing up watching movies from the outside of a drive-in theater, silently. It was then that he became enamored by silent films and came to understand the basic syntax of film. "In Kevin Brownlow's 'The Parade's Gone By,' he said all of film language was defined by the silent movies," Miller said.
Those early interests are what attracted him to action filmmaking, too, movies like "Bullitt" and "The French Connection." He also spoke of Steven Spielberg's expert grasp of montage film language. "I'd watch things like the chariot race from 'Ben-Hur,' which is an extended piece without any dialogue, I think, and how it was constructed," he said. "I realized you're not slumming in action, because you're trying to use a language that cannot be rendered in another medium. You can't do it in the theater. You can't do it live."
Getting back to "Fury Road," with all of the early logistical hiccups out of the way and production in Namibia ready to go, and even with the amount of detailed preparation those delays consistently afforded, the day-to-day process of actually making the film was a gargantuan undertaking. "For 120 days, every day was a big stunt day," he said. Then there was the use of practical effects and heavy stunt work, all of which was necessary given the kind of movie Miller wanted to make.
"You couldn't make this as a CG movie," he said. "You create a chaotic event and there's so much detail, particularly with sand and objects flying apart. It's very hard to predict that stuff. There are simulations, but we haven't really got to the point where you can have that sort of mathematical detail in the simulations. Plus, you didn't have to wait for it. You pull off a stunt, check the camera, and yeah, you got it."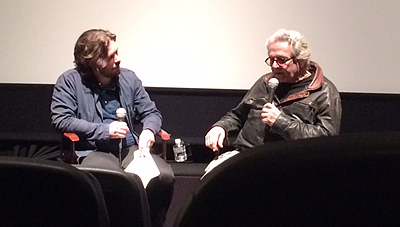 Wright took a moment then to mention that if ever a movie screamed for the Academy to finally institute an Oscar for stunts, as has been debated for years, this is the one. And Miller was obsessed with safety as well. "The notion of hurting somebody really badly was there," he said. "But we had great riggers, the guys who fly those people around in one take for the Olympic ceremony in Beijing and Sydney, they were on top of it."
He even lured legendary cinematographer John Seale out of retirement to capture all of this madness, when former "Mad Max" lenser Dean Semler was unable to commit at the last minute. An Oscar winner for "The English Patient" and "a very fit sailor," Miller called him, Seale would be up on top of the giant Frankenstein, semi-trailer-like "war rig" that tears through the scenery in the film, right in the thick of the action. "He turned 70 on the movie," Miller said. "And he operated. He's not intimidated by multiple cameras."
Ultimately, some 480 hours of footage was shot thanks to the use of digital cameras. That's three weeks of non-stop action, if you were to watch it in one go. In the end, all of it was dumped in the lap of Miller's editor Margaret Sixel, who had to find the two hours that make up "Fury Road." So from stem to stern, it was a production that lived and died on every aspect of the process, a boisterous ride that feels like the very rally cry of cinema itself.
Miller offered a choice quote to sum it all up.
"Bernard Herrmann said that cinema is a mosaic art," he said. "It's all the little pieces that go together that make up the whole. So you find those little pieces."
"Mad Max: Fury Road" will premiere at the Cannes Film Festival on May 14. It opens nationwide May 15.