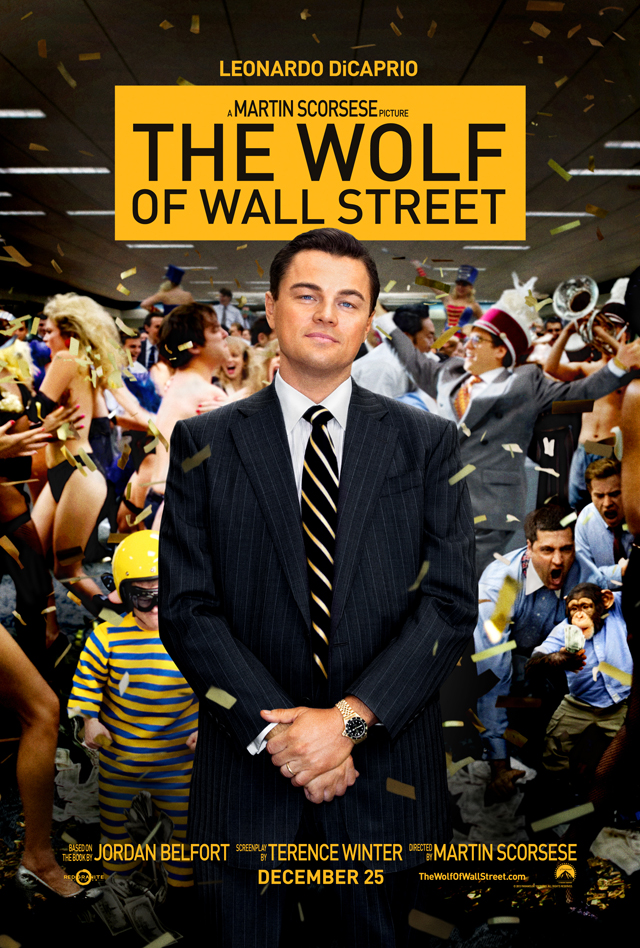 FINAL UPDATE: After this, I'm done with it…as long as Ms. Van Blaricom is. The following is the last of an email exchange we had with the IPA president following her side of the story appearing in a report at Gold Derby (subsequently amended to further support our initial report):
"Much to my dismay, Mr. O"Neil misquoted my discussion with him. The International Press Academy members, who could attend the SAG-AFTRA Film Society 'The Wolf of Wall Street' screenings, did so, and subsequently submitted their votes for the film, resulting in enough votes for the film to be nominated."
This email was also sent to The Wrap following Steve Pond's coverage of the story. Pond conveyed O'Neil's response thusly:
"O"Neil told TheWrap that he did not misquote Van Blaricom, and that he 'took careful notes' while she twice repeated the specific numbers about how many IPA members attended the screenings."
Van Blaricom is now claiming to the studio that she saw the Sunday screening, not the Saturday screening, where she originally said she and 26 of her colleagues were in attendance.
You can make up your own mind, but we're done here. Read the rest below.
UPDATE: You can read this afternoon's report below for the background. Earlier today, Gold Derby's Tom O'Neil called up Mirjana Van Blaricom to get her side. "I saw ['The Wolf of Wall Street'] on Saturday at 12:30 at the SAG screening," she told him. "I was with nine other members of my group. Over all, I saw 27 of us at that screening. Many other members saw the movie at the three other industry screenings that were held over the weekend." She also said "AFTRA and SAG voters are permitted to bring two guests and we go with them. That way we get to see movies first."
I'm not entirely sure why someone would want to keep digging this hole, but in any case, it turns out, at least according to the studio, none of that is true. And O'Neil has since updated his own post to reflect further information that backs up our story.
First and foremost, SAG-AFTRA members were not, according to Paramount, permitted to bring two guests to the screening Van Blaricom said she attended with 26 of her organization's membership present (the same screening I actually attended). That screening was arranged in collaboration with the SAG Foundation. Due to limited seating, no guests were allowed, a studio source says, save for a few instances when SAG Nominating Committee members were permitted guests.
The source tells me a total of nine individuals – yes, including the person who got me in – were allowed guests, and that even of the talent in attendance, only Rob Reiner brought a guest: his wife. So if you're keeping score, that's a total of nine people (guests) who could even have theoretically been IPA members in attendance, yet Van Blaricom claims there were 27 and that she was among them.
"She wasn't there," the source says. "And neither were 26 of her friends. We are aware of everyone who was on the guest list in that room as it was a very managed process. Each member was required to show a SAG-AFTRA membership card upon check-in to gain admittance," save, again, for guests of Nominating Committee members who attended. All nine of them.
We stand by our original report, and will leave it with this excerpt from O'Neil's piece, which reflects other inconsistencies in the IPA's nominations list this morning:
That controversy aside, there are other problems with today's Satellite Award nominations. "Louie" is nominated for Best TV Comedy Series and Best Comedy Actor even though the show didn't air during the 2013 eligibility period. The last "Louie" episode aired on September 27, 2012.
"We made a mistake," Van Blaricom admits. "Our members didn't realize that when they were voting. We will fix that."
She also said that she will investigate a curious contradiction in placement of "Once Upon a Time." On the IPA's website, it's nominated for Best Comedy Series, but not in the official press release where it's up for Best TV Series or Miniseries, Genre. "We will look into that," she promised when we pointed this out.
"Veep" appears on the press release as nominee for Best Comedy Series, but not on the website. She says the website version is wrong – "Veep," yes, is nominated – and she blames her website software. "WordPress works strangely," she says.
EARLIER: Former HFPA president Mirjana Van Blaricom is the founder of the International Press Academy (IPA). Some years ago she and the HFPA went their separate ways. It was some mysterious scandal. No one really knows what happened. She went off and formed the IPA and I'm told the HFPA's stance is, "If you work with the IPA, don't work with us." So naturally, the IPA, which annually hands out the dubious Satellite Awards, doesn't have much of a relationship with the studios. Few of them submit films and/or screen for the organization.
With that out of the way, and I'm not trying to kick up a petty war about something that doesn't even matter, but these questionable if harmless nominations caught my eye today when I saw "The Wolf of Wall Street" throughout. The film landed five nominations, including Best Motion Picture, Director and Actor. Had they seen it? After all, it's only screened for guilds and HFPA so far. Turns out, according to sources, no, they haven't seen it.
The studio confirmed today that they neither submitted nor screened "Wolf" for Satellite Award consideration. And specifically, Van Blaricom, I'm told, didn't see the film. So chalk its mentions up as what they likely are: an attempt to get people like Martin Scorsese and Leonardo DiCaprio to show up at the March 9 ceremony. And you can probably apply similar logic throughout, whether the films were seen or not. As a result, the organization's list of nominations – which basically reads like an Oscar predictions crib sheet ("Gravity" and "12 Years a Slave" led the way with eight mentions apiece) – loses any shred of credibility it may have had to begin with.
All of that's not to say that Van Blaricom hasn't been spot on in her criticisms of the HFPA. She also recently testified in the HFPA/Dick Clark Productions dispute. But this is beyond, even by awards season standards. And it shoots any claims of her organization being "more legitimate" than the HFPA in the foot.
So count this as the last time we bother covering the International Press Academy and the Satellite Awards. At least they go out on an amazing year for movies…
(Nominations on the next page.)
Motion Picture
"All Is Lost"
"American Hustle"
"Blue Jasmine"
"Captain Phillips"
"Gravity"
"Inside Llewyn Davis"
"Philomena"
"Saving Mr. Banks"
"12 Years a Slave"
"The Wolf of Wall Street"
Director
Woody Allen, "Blue Jasmine"
Joel and Ethan Coen, "Inside Llewyn Davis"
Alfonso Cuarón, "Gravity"
Paul Greengrass, "Captain Phillips"
Ron Howard, "Rush"
Steve McQueen, "12 Years a Slave"
David O. Russell, "American Hustle"
Martin Scorsese, "The Wolf of Wall Street"
Actor in a Motion Picture
Christian Bale, "American Hustle"
Bruce Dern, "Nebraska"
Leonardo DiCaprio, "The Wolf of Wall Street"
Chiwetel Ejiofor, "12 Years a Slave"
Tom Hanks, "Captain Phillips"
Matthew McConaughey, "Dallas Buyers Club"
Robert Redford, "All is Lost"
Forest Whitaker, "Lee Daniels' The Butler"
Actress in a Motion Picture
Amy Adams, "American Hustle"
Cate Blanchett, "Blue Jasmine"
Sandra Bullock, "Gravity"
Judi Dench, "Philomena"
Adèle Exarchopoulos, "Blue is the Warmest Color"
Julia Louis-Dreyfus, "Enough Said"
Meryl Streep, "August: Osage County"
Emma Thompson, "Saving Mr. Banks"
Actor in a Supporting Role
Bradley Cooper, "American Hustle"
Michael Fassbender, "12 Years a Slave"
Harrison Ford, "42"
Ryan Gosling, "The Place Beyond the Pines"
Jake Gyllenhaal, "Prisoners"
Tom Hanks, "Saving Mr. Banks"
Casey Affleck, "Out of the Furnace"
Jared Leto, "Dallas Buyers Club"
Actress in a Supporting Role
Sally Hawkins, "Blue Jasmine"
Jennifer Lawrnece, "American Hustle"
Lupita Nyong'o, "12 Years a Slave"
Julia Roberts, "August: Osage County"
Léa Seydoux, "Blue is the Warmest Color"
June Squibb, "Nebraska"
Emily Watson, "The Book Thief"
Oprah Winfrey, "Lee Daniels' The Butler"
Motion Picture, International Film
"Bethlehem" (Israel)
"Blue is the Warmest Color" (France)
"The Broken Circle Breakdown" (Belgium)
"Circles" (Serbia)
"Four Corners" (South Africa)
"The Great Beauty" (Italy)
"The Hunt" (Denmark)
"Metro Manila" (United Kingdom)
"The Past" (Iran)
"Wadjda" (Saudi Arabia)
Motion Picture, Animated or Mixed Media
"Cloudy With a Chance of Meatballs 2"
"The Croods"
"Epic"
"Ernest & Celestine"
"Frozen"
"Monsters University"
"Turbo"
"The Wind Rises"
Motion Picture, Documentary
"The Act of Killing"
"After Tiller"
"American Promise"
"Blackfish"
"Evocateur: The Morton Downey Jr. Movie"
"Sound City"
"The Square"
"Stories We Tell"
"Tim"s Vermeer"
"20 Feet from Stardom"
Screenplay, Original
"American Hustle"
"Blue Jasmine"
"Enough Said"
"Her"
"Inside Llewyn Davis"
"Saving Mr. Banks"
Screenplay, Adapted
"Before Midnight"
"Captain Phillips"
"Lone Survivor"
"Philomena"
"12 Years a Slave"
"The Wolf of Wall Street"
Original Score
"The Book Thief" (John Williams)
"Gravity" (Steven Price)
"Her" (Arcade Fire)
"Philomena" (Alexandre Desplat)
"The Secret Life of Walter Mitty" (Theodore Shapiro)
"12 Years a Slave" (Hans Zimmer)
Original Song
"Happy" from "Despicable Me 2"
"Let it Go" from "Frozen"
"Young and Beautiful" from "The Great Gatsby"
"I See Fire" from "The Hobbit: The Desolation of Smaug"
"Please Mr. Kennedy" from "Inside Llewyn Davis"
"So You Know What It's Like" from "Short Term 12"
Cinematography
"Gravity"
"Inside Llewyn Davis"
"Prisoners"
"Rush"
"The Secret Life of Walter Mitty"
"12 Years a Slave"
Visual Effects
"All is Lost"
"The Croods"
"Gravity"
"Oz the Great and Powerful"
"Rush"
"World War Z"
Film Editing
"American Hustle"
"Gravity"
"Prisoners"
"Rush"
"The Wolf of Wall Street"
Sound (Editing and Mixing)
"All is Lost"
"Elysium"
"Gravity"
"Inside Llewyn Davis"
"Rush"
Art Direction & Production Design
"The Great Gatsby"
"The Invisible Woman"
"Lee Daniels' The Butler"
"Oz the Great and Powerful"
"Rush"
"Saving Mr. Banks"
Costume Design
"The Great Gatsby"
"The Invisible Woman"
"Oz the Great and Powerful"
"Rush"
"Saving Mr. Banks"
Honorary Satellite Award
Ryan Coogler
Breakthrough Performance Award
Sophie Nelisse, "The Book Thief"
Best Ensemble, Motion Picture
"Nebraska"