(Welcome to the Oscar Guide, your chaperone through the Academy"s 24 categories awarding excellence in film. A new installment will hit every weekday in the run-up to the Oscars on February 24, with the Best Picture finale on Friday, February 22.)
I can"t say the nominees in the Best Visual Effects category this year are unusual. We have three summer blockbusters, one Christmas blockbuster and one gorgeous 3D Best Picture contender. Two films could perhaps be considered "snubbed," though.
"Cloud Atlas" being left off became more and more predictable as we got closer and closer to the nominees – this divisive bomb just wasn"t that loved in Hollywood. "The Dark Knight Rises," however, is a surprising omission. It joins "Insomnia" and "Following" as rare Christopher Nolan films to be shut out of Oscar nominations. As far as the race for the win is concerned, this ranks right up with Best Actor and Best Supporting Actress as being a done deal.
The nominees are…
"The Avengers" (Janek Sirrs, Jeff White, Guy Williams, Daniel Sudick)
"The Hobbit: An Unexpected Journey" (Joe Letteri, Erik Saindon, David Clayton, R. Christopher White)
"Life of Pi" (Bill Westenhofer, Guillaume Rocheron, Jan-Erik De Boer, Donald R. Elliot)
"Prometheus" (Richard Stammers, Trevor Wood, Charley Henry, Martin Hill)
"Snow White and the Huntsman" (Cedric Nicolas-Troyon, Philip Brennan, Neil Corbould, Michael Dawson)
This is an outstanding group of nominees. In fact, I would have nominated four of them! Even so, I feel "Cloud Atlas" got short shrift with AMPAS by failing to score even here. I am also concerned that leaving out well-reviewed hits such as "The Dark Knight Rises" and "Skyfall" suggests that films that are heavily reliant on practical effects will be continually left behind in the future.
Given its big, big (holy cow big) box office, I remain surprised that Marvel"s "The Avengers" didn"t garner any sound nominations. But the producers and visual effects crew are clearly thrilled that it managed to score here. The effects brought in many an audience member, and the film was consistently praised for having the best creation of the Hulk on screen to date (after two previous tries). It"s been 20 years (going back to "Death Becomes Her") since a film managed to win this category when it was its only nomination. In a year without this one's frontrunner, I"d say "The Avengers" would have a shot at matching that.
Peter Jackson's first installment, "The Hobbit: An Unexpected Journey," represents a return to Middle Earth for the WETA team, once again anchored by four-time Oscar winner Joe Letteri. Letteri was robbed of a win last year for "Rise of the Planet of the Apes" (as was fellow nominee R. Christopher White). WETA has won Oscars for four previous Jackson films (the three "Lord of the Rings" titles plus "King Kong"). But as I pointed out last year, you have to go all the way back to 1970 – when "Tora! Tora! Tora!" beat "Patton" – to find an instance of a non-Best Picture nominee beating a Best Picture nominee in this category. Which brings me to…
Best Picture nominee "Life of Pi" has its critics who have problems with the storytelling, the themes, the framing device, etc. AMPAS, giving it 11 nominations (including one in basically every plausible category) clearly disagreed. But no one – even the fiercest critic – has been able to call it anything other than a visual marvel. Richard Parker alone is an extraordinary accomplishment, but that's just scratching the surface. Bill Westenhofer – who won this category for "The Golden Compass" – anchored a crew which managed to bring 3D to new heights and keep the audience enthralled when most of the movie took place with a boy on a raft. If "Hugo" can beat "Rise of the Planet of the Apes" and the last "Harry Potter" film last year, "Life of Pi" is a sure thing this year.
Ridley Scott's "Prometheus" shows that this branch hasn"t tired of either the "Alien" series (this is the fourth film nominated) or director Scott (his fourth film nominated). I"m pleased that this was remembered for extremely eerie effects work that wasn"t as obviously showy as, say, "The Hobbit" or "The Avengers," but was absolutely pivotal to the narrative. The nomination will be the reward, however. If, by some miracle, a solo nominee wins this category, the more fun and showy "The Avengers" has the upper hand.
The most surprising nominee in the final five has got to be "Snow White and the Huntsman." This allows Neil Corbould to keep up his streak of being nominated every six years ("Gladiator," "Superman Returns") as he snuck in over brother Chris ("The Dark Knight Rises"). Along with Colleen Atwood"s less surprising Best Costume Design notice, this film is a double Oscar nominee? Who"d have thunk it? But with so many more respected/prestigious/profitable films around, it ain"t winning.
Will Win: "Life of Pi"
Could Win: "The Hobbit: An Unexpected Journey"
Should Win: "Life of Pi"
Should Have Been Here: "Cloud Atlas"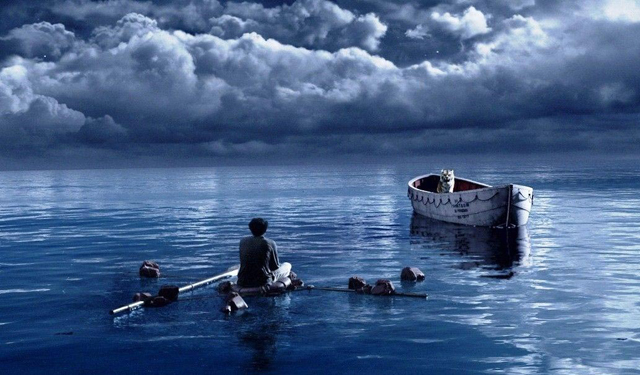 Are there any brave souls out there prepared to bet against "Life of Pi"? Is anything about this category leaving a sour taste in your mouth? Chime in below!