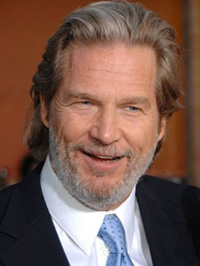 For actor Jeff Bridges, whose career has already spanned five decades, Scott Cooper's "Crazy Heart" was something of a homecoming and, the actor says, "a dream come true."
Bridges stars in the film as Bad Blake, a ramblin' country-western singer who travels the Southwest playing dive after dive, cut from the same cloth as Hank Williams Jr., maybe, or Waylon Jennings, Kris Kristofferson, etc. A guitarist in his own right, Bridges was eager to take on a film so concerned with music, but was wary of underwhelming after the example set by another music-themed film from his past, Steve Kloves's "The Fabulous Baker Boys" from 1989.
"What they did with that movie I thought was so wonderful that to do another music movie and not match that, it's a pretty high bar there, so I was concerned about that," Bridges says over lunch in Beverly Hills one November afternoon. "There were several music scripts that came down the pike, and sometimes it would have lyrics or little samples and it wouldn't be right. And this one had no music. Then I thought maybe I could write the music, or my friend, but then, you know, I was busy, so I didn't focus on it."
Indeed, Bridges is quick to admit that he spends a great deal of his energy steering clear of new projects. It might be a phobia of commitment on one hand, but on the other, he's a man who likes to keep his options open. Signing onto a new film means missing the chance to work on any number of other projects that might ultimately interest him more.
But "Crazy Heart" was a different story, especially once his good friend T Bone Burnett got involved as producer, music consultant and composer.
"A year or so passed and I ran into Bone somewhere," Bridges says. "He said, 'You know this script Crazy Heart? What do you think? It's pretty good. Let's do it.' I said, 'You're gonna do it?' He said, 'Yeah, if you will.' And there's the missing piece!"
Soon other comrades joined up. Former actor Waldemar Kalinowski, who Bridges has known since the two worked on "Heaven's Gate" together nearly 30 years ago, came on as production designer. John Goodwin, Bridges's oldest friend going back to the fourth grade, came on to assist on the music side of things and even co-wrote one of the film's central tracks, "Hold on You." And Stephen Bruton also came in with Burnett, adding more fuel to what would become a vast soundtrack of tunes you wouldn't be surprised to hear on the radio today.
Bruton and Goodwin in particular served as touchstones for Bridges on the way to fully realizing Bad Blake on the screen.
"Stephen was a working musician," Bridges says. "John lives in Nashville and he's an under-appreciated songwriter. Bone scores movies and stuff. But Stephen's always on the road and he would constantly give me little ideas, and as an actor, you're always looking for little details that would let the audience into the world."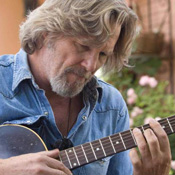 And whether it's a Sparkletts bottle full of urine that Blake dumps after a long drive in one of the film's early scenes or any number of notes from an array of musicologists, from Burnett to Bridges's friend, musician Greg Brown, right up to the film's writer/director, Scott Cooper, the actor set about soaking up everything he could to crank out what Fox Searchlight has proudly proclaimed "the performance of a lifetime" since acquiring the film in July.
"You always kind of start with yourself, see what aspects of yourself can fuel the part," Bridges says of his approach to acting. "I'm a musician and songwriter myself so I looked at how I related to music and the part. I'm a country music fan. It was just a dream come true, doing the music, working with my dear friends."
A final card on the film's closing credits salutes Bruton, who lost his fight with cancer during post-production on the film.
Looking for comrades
Bridges stars alongside Maggie Gyllenhaal in the film, whose single-mother journalist character Jean Craddock serves as an impetus for Blake's journey to sobriety.
"She's one of my favorite actors I've ever worked with," Bridges says of his co-star. "She's just so game and so into it. When I start a movie, you know, we only have a certain amount of time to do what we've got to do, and you want to get as deep into it as you possibly can so you get your best work up there.
"I'll always come onto a set looking for comrades who'll, you know, throw kindling on the fire and get this fire going pretty quick so we can get some good stuff going. And there's some people you can just tell are up for it and approach it the same way, they're not too concerned with ego and how they're coming off. They're really looking at the whole thing. There's many different ways to approach this work, and when you find someone who approaches it in a similar way, you can really get the ball rolling."
That was ultimately the case with everyone on "Crazy Heart," Bridges says. He got along with Cooper immediately and refers to Robert Duvall, a friend of Cooper's who takes on a supporting role in the film and serves as a producer, not to mention draws a direct line between Bad Blake and his own Oscar-winning role, Mac Sledge, in "Tender Mercies," as "the godfather of it all."
One element the film addresses is the perception of modern country music. Cooper has said that, in some ways, the film was a direct reaction to what is coming out of Nashville today. Some might say today's heavily produced, cross-over breed steers away from the roots of the genre and more toward the popular rhythms that sell records. Craddock asks Blake in the film whether Tommy Sweet, a former Blake protege played by Colin Farrell, is "real country" or not.
The notion causes Bridges to be quite thoughtful, not only of country music, but of the film business in general.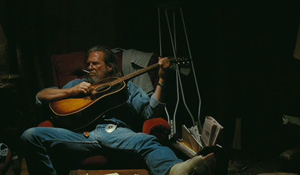 "You like what you like and everybody's got an opinion," he says. "But it's funny. It's the same thing with the way movies are going down. These giant $200 million movies, spectacular things, and some people don't like those. Some filmmakers don't like those. And that kind of breeds the opposite of it.
"One of my favorite movies a couple of years ago was 'Once,'" for what, a hundred thousand bucks, man? God. What's kind of a shame is in movies, you miss that middle section. It's very hard to get like a $30 million movie made. But the same kind of goes with music. You've got this sweet, overly produced country music. And in reaction to that, you've got really gutsy, rootsy kind of stuff, real spare. And so they both fuel each other. I think it's just the natural progression; they both kind of go together."
Aspects of yourself
To say "Crazy Heart" could represent a career highlight for someone like Jeff Bridges is quite a mouthful when one looks back over his body of work. Four Oscar nominations to date — for Peter Bogdanovich's "The Last Picture Show," Michael Cimino's "Thunderbolt and Lightfoot," John Carpenter's "Starman" and Rod Lurie's "The Contender" — and that's before you even consider his impact on pop culture via performances in "TRON" or "The Big Lebowski."
Bridges still remembers getting a phone call in his Malibu "bachelor pad" the morning he received his first nomination, for "The Last Picture Show," way back in 1972.
"That was totally unexpected," he says. "There was no campaigning or interviews. I just remember getting a call, and they say, 'You've been nominated for an Academy Award,' and I'm like, 'What!?'"
Of course, Bridges went on to do the film's sequel, "Texasville," with Bogdanovich in 1990 and says the two have been thinking about revisiting the Duane Jackson character for a third time.
His second brush with Academy recognition came for 1974's bank heist flick "Thunderbolt and Lightfoot," which put him opposite Clint Eastwood. Within six years he'd be starring in a John Carpenter film that would hardly seem like an awards contender on the surface.
On "Starman," the only film to yield a lead actor Oscar nomination for Bridges to date, the actor was presented with a considerable challenge: how to portray an extra-terrestrial that has essentially commandeered a human body?
"Again, I approach most parts the same, looking at aspects of yourself that you can draw on, and ones that you can kind of kick to the curb, which with 'Starman,' was most of it," Bridges says. "And then I look at friends that I know personally that remind me of this guy. So I'd go through my phone book and I'd go, 'Which friends are in this book that I wouldn't be surprised if I found out they were an alien?'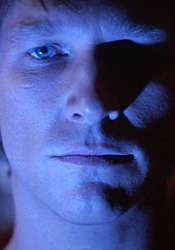 "One of those guys was a fellow named Russell Clark who was a dancer and had these interesting movements, so I thought I'd hire him to teach me some dance and kind of approach this thing like a dancer. I felt if I cracked that opening scene, then it would be a process of just becoming more human as the film went on.
"It was almost like imagining that I was somebody in a human body as if it was a ride, not myself. Like I was driving it around. And then it was impersonating. Like you're sitting like this right now (he indicates the interviewer's posture), and you're sitting that way because you're comfortable. So Starman would see that and rather than knowing why you did it he would do it and it wouldn't be for the purpose, it would be kind of a bad impersonation."
In 2000, Bridges landed a fourth Academy Award nomination for his portrayal of an American president in Rod Lurie's political drama "The Contender." Bridges was actually Lurie's first interview once upon a time (Lurie used to be a film critic and journalist in Los Angeles).
"That was a world that Rod knew so well and his enthusiasm, again, that's so important," Bridges says. "It's contagious."
To get into the character of a Commander-in-Chief (incidentally, Bridges's Jackson Evans is Barack Obama's favorite movie president), Bridges says he tossed in a little Bill Clinton, of course, someone who clearly relished the job of president. But again, he looked to those close to him. And one major influence was his father, actor Lloyd Bridges.
"He was a gregarious guy and loved what he did, loved show business," Bridges says. "He dug making movies, but he also dug the selling of it. I didn't originally want to become an actor. You never want to do what your parents want you to do. My dad really wanted to turn his kids onto it, not in a stage parent kind of way, but just, 'Hey, you know, this is a great life.' I was very resistant. I wanted to be a musician, wanted to be an artist, I had other interests. I had maybe 10 movies under my belt before I thought I could do this for the rest of my life."
And was his father right? Is this a great life?
"Absolutely," he says without a pause. "Wow. Wonderful."
A little sense of memory

The Coen brothers' "The Big Lebowski" has become a pop culture giant since it's relatively soft 1998 theatrical opening. Many went on to discover the film on home video and DVD, but nothing could have prepared Bridges for the cult of The Dude that cropped up around his oft-quoted stoner (who was inspired by Hollywood producer Jeff Dowd).
"I love that," he says. "It's so gratifying because it didn't do much when it first came out, then it was a bigger hit in Europe and it splashed back over here. I've been to one of those festivals. I played it. It was my Beatle moment, playing to a sea of Dudes, screaming and excitement.
"It's great to have a movie that I loved being a part of, and some people think the Coen brothers, they're so good at what they do, it must just be like nothing, improvisation. But on that movie, no improvisation. Everything is scripted. They're very precise. And to have the appreciation that it's got now, and people study it, it's great."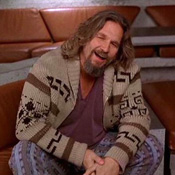 Given The Dude's vice of choice in the film, Bridges says he thinks most probably just take it for granted that some partaking in the tokage took place. But that wasn't the case, he says.
"I indulge in a joint occasionally, but on that one, I chose not to smoke, because of that precision we were talking about," he says. "And I'd done enough smoking in my time that I could use a little sense of memory there. I wanted to serve the script that was there and have all my wits about me, so I didn't indulge. I made that mistake early in my career. 'Oh, I'm playing a drunk, I'll just get drunk.' That works for maybe an hour but you can't maintain that."
Bridges begins work on his second collaboration with the Coen brothers, a new adaptation of the Charles Portis book "True Grit," in March.
We're all just fuckin' around
It only seems a matter of time these days before studios come calling for actors, however legendary, to take part in the trendy wave of superhero vehicles that are dominating the marketplace. For Bridges, the movie was "Iron Man" in 2007, and having just finished principle photography on the sequel to "TRON," he felt like it would be a smooth transition.
For a moment, it was anything but.
"They had no script, man," Bridges exclaims. "They had an outline. We would show up for big scenes every day and we wouldn't know what we were going to say. We would have to go into our trailer and work on this scene and call up writers on the phone, 'You got any ideas?' Meanwhile the crew is tapping their foot on the stage waiting for us to come on."
Bridges, director Jon Favreau and Robert Downey Jr. would literally act out sequences during primitive rehearsals, Downey taking on Bridges's role and vice versa, to find and essentially improvise their way to full scenes, the actor recounts. Bridges says that the entire production was probably saved by the improv prowess of the film's director and star.
"You've got the suits from Marvel in the trailer with us saying, 'No, you wouldn't say that,'" Bridges remembers. "You would think with a $200 million movie you'd have the shit together, but it was just the opposite. And the reason for that is because they get ahead of themselves. They have a release date before the script, 'Oh, we'll have the script before that time,' and they don't have their shit together.
"Jon dealt with it so well," Bridges continues. "It freaked me out. I was very anxious. I like to be prepared. I like to know my lines, man, that's my school. Very prepared. That was very irritating, and then I just made this adjustment. It happens in movies a lot where something's rubbing against your fur and it's not feeling right, but it's just the way it is. You can spend a lot of energy bitching about that or you can figure out how you're going to do it, how you're going to play this hand you've been dealt. What you can control is how you perceive things and your thinking about it. So I said, 'Oh, what we're doing here, we're making a $200 million student film. We're all just fuckin' around! We're playin'. Oh, great!' That took all the pressure off. 'Oh, just jam, man, just play.' And it turned out great!"
Bridges says those "suits" keep telling him, "It's just a comic book. Maybe we'll bring you back."
"Jeff Makes a Decision"
Bridges has only been to the Oscars on the four occasions he's found himself nominated. The buzz wave that has kicked up around his performance in "Crazy Heart," the notion that he's well overdue for his first statuette, he admits that it's exciting. But like a true diplomat, he is quick to note what such attention means for the film itself.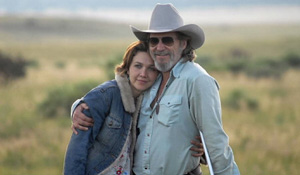 "I'm excited just to draw attention to this movie that I had such a great time on and I think is so good," he says. "The winning of the Oscar, I'd be lying if I said it wouldn't be wonderful to get something like that, but there's an aspect of the Oscars and awards in general where it's sort of a chance for all the filmmakers to wave their flag and say, 'Check out our movie.' I understand now there's going to be 10 Best Movies, and I see that as a good thing for the business.
"But the winning of it, there's a downside to that, too. The four times I've been nominated, when they call somebody else's name you say, 'Wow, I don't have to get up there, man.' You would think being an actor for as long as I've been that I could get up in front of people and give a speech, but no, I'm just as nervous as anyone. So it's kind of a relief. And there's something kind of cool about being the underdog. That's how I like to approach my work anyway. Not so much, like, 'Hey watch what I'm gonna do, I'm gonna do some hot shit here.' I'd rather come in not having such expectations. So that's a certain weight with awards and fame in general that you have to work with."
He says he'd like to try his hand at directing one of these days, but he's a little reticent to do so because he knows the commitment it entails. "It's like a year out of your life, easy," he says. "It would have to be something I was really engaged in."
Of course it makes sense. Bridges is the kind of guy who seems to make his way through life and his career at his own pace, fearful of distractions, yet hungry for them all the same. The energy he's spent steering clear of commitments that could prevent him from other opportunities was even the subject of a conversation piece for the novice painter.
"I had a dream that I made a painting of and the dream was me going down a very wide river, 50 yards across, something like that, big cliffs on each side," he says. "And there's these huge whirlpools. And my task was to navigate around these whirlpools as I went down the river. And in the vortex of each whirlpool was a jewel, and I'd go navigate and look at the jewel and I'd start to go into the whirlpool and I'd go, 'Oh shit, I almost got caught!' And I'd go on to another one and I'd get mesmerized, and I'd get caught and go, 'Oh no!' And that (indicating the pose of a man being pulled away) is the painting. And the title of the painting is 'Jeff Makes a Decision.' I try really hard not to do it until I can't help it and it's an offer I can't refuse, it's too special, something."
It's probably fair to say "Crazy Heart" was an offer he couldn't refuse, too special. Something.
"Crazy Heart" opens in limited release December 16.  You can listen to my chat with Mr. Bridges below.
[display_podcast]