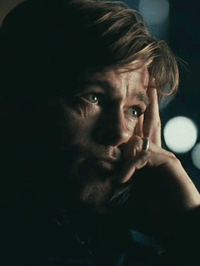 So, it's been a big week of announcements here at In Contention, and next week, a bigger week of changes. The current plan is to have the new digs off the ground on Tuesday, so we'll have Monday to say our goodbyes. But it occurred to me I haven't offered up a Cinejabber space for you to cut loose about any and everything in quite some time. So, let's do that before we go.
I'm stoked that we're going out with a bang on our "tell us what you thought" posts, as the "Drive" discussion is easily our most engaging and lively one yet. I saw the film again last night (I'm guessing it's the first opening night film I've taken in in three years). It's such a brilliant piece of work. I hope it does well this season.
I had lunch this afternoon with the soft-spoken and, following engagement on a studio film and the Toronto grind of last week, rather exhausted Bennett Miller. He's very passionate about the themes and the main character of the film, as I knew he had to be, given how dense it is. One thing he said really stuck out: "Brad [Pitt] told me, 'I'm proud of this movie, and I'm proud of it for how hard it was.'" Indeed, it was a "beautiful nightmare" getting "Moneyball" made, but Miller ended up giving the material a delicate touch and one that allowed it to work on his terms within the studio system. He's proud of it for that, too. But more on all that later.