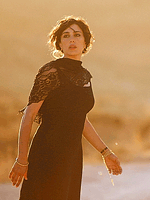 I can't say I'm all that aware yet of Nadine Labaki's "Where Do We Go Now?," which Guy recently called "a serious-minded comedy with musical elements that premiered to warm reviews in Cannes' Un Certain Regard section, where it earned a special mention from the Ecumenical Jury." But the film has swooped in and nabbed the Toronto Film Festival's People's Choice Award when many were predicting "The Artist" would charm its way to the prize. Expect a domestic distributor to pounce any day now.
The film was recently submitted by Lebanon into the foreign film race, and one of the runners-up in Toronto, Asghar Farhadi's "A Separation," was also slotted by Iran. So for a festival that usually paves the way for the major categories in an Oscar race (more on that tomorrow), Toronto has actually heated up the race for Best Foreign Language Film. Unexpected and, I might say, entirely refreshing, that.
The audience's choice for Best Documentary went to "The Island President," which I was sad to miss at Telluride. The Midnight Madness award went to "The Raid," which blew up on Twitter the night it screened. Other awards went to "Monsieur Lazhar," "Avalon," "The First Man" and short film "Doubles with Slight Pepper."
So now it looks like, just judging from what I've seen/heard from others, we have three solid contenders for a nomination in the foreign film category: "A Separation," "In Darkness," "Le Havre" and now, "Where Do We Go Now?" Guy expects "Pina" to get in, but I don't see that happening, while "Attenberg" and "The Turin Horse" seem incredibly unlikely (but never discount the power of the executive committee).
[Photo: Pathé]