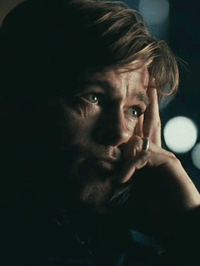 So, it's been a big week of announcements here at In Contention, and next week, a bigger week of changes. The current plan is to have the new digs off the ground on Tuesday, so we'll have Monday to say our goodbyes. But it occurred to me I haven't offered up a Cinejabber space for you to cut loose about any and everything in quite some time. So, let's do that before we go.
I'm stoked that we're going out with a bang on our "tell us what you thought" posts, as the "Drive" discussion is easily our most engaging and lively one yet. I saw the film again last night (I'm guessing it's the first opening night film I've taken in in three years). It's such a brilliant piece of work. I hope it does well this season.
I had lunch this afternoon with the soft-spoken and, following engagement on a studio film and the Toronto grind of last week, rather exhausted Bennett Miller. He's very passionate about the themes and the main character of the film, as I knew he had to be, given how dense it is. One thing he said really stuck out: "Brad [Pitt] told me, 'I'm proud of this movie, and I'm proud of it for how hard it was.'" Indeed, it was a "beautiful nightmare" getting "Moneyball" made, but Miller ended up giving the material a delicate touch and one that allowed it to work on his terms within the studio system. He's proud of it for that, too. But more on all that later.
Let's see. I'm excited for what is still an unknown season. I'll get into this more in depth in Monday's Off the Carpet column, but the festival circuit has done little to anoint any one contender this year, and that's a welcome change.
I'm planning something longer on it, but I finally caught up to Thomas McCarthy's "Win Win" yesterday. What a gem. McCarthy is a national treasure and no one even knows it. I'm so glad that guy is making movies.
The Redskins are undefeated (heh). The weather has cooled off here in Los Angeles. I'm hitting that stride of talking to smart people about their films and the choices they made along the way. I'm passionate about what I've seen and liked and I feel positive about what's left to be seen this year. And, of course, I'm very stoked for our new venture with HitFix.
So that's where I'm at. Feel free to cut loose with thoughts on this or that or things you've seen, whatever. This is your space. Open thread. Have at it one more time under the InContention.com banner.
[Photo: Columbia Pictures]