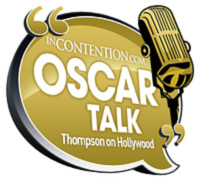 Welcome to Oscar Talk.
In case you're new to the site and/or the podcast, Oscar Talk is a weekly kudocast, your one-stop awards chat shop between yours truly and Anne Thompson of Thompson on Hollywood. The podcast is weekly, every Friday throughout the season, charting the ups and downs of contenders along the way. Plenty of things change en route to Oscar's stage and we're here to address it all as it unfolds.
It's a bittersweet time. Barring any set-backs, this is the last time you'll see an episode of Oscar Talk…in this space. As revealed earlier this week, In Contention is moving over to HitFix, aiming for as early as Monday of next week. So this 61st installment of the podcast is all she wrote for these white walls, but the fun will continue at the new destination a week from today. But, for now, with Anne on her last day of Toronto coverage, there is plenty to cover. So let's see what's on the docket today…
• With Toronto winding down, it's worth taking note of early festival films looking for an added bump, like "The Artist" and "The Descendants." Anne gives her take on how those films played up north.
• There were a few considerable bows at the festival, like Bennett Miller's "Moneyball" (thumbs up from both of us), Oren Moverman's "Rampart" (ditto) and Roland Emmerich's "Anonymous" (ditto). Those are the ones we've both seen, so we discuss them at length.
• But is "Moneyball" an Academy movie? We both love it for various reasons, but we both seem to have the instinct that it's not going to strike Oscar gold.
• Anne has also seen a few more films at the fest, like the Christopher Plummer-starrer "Barrymore" and Terrence Davies's "The Deep Blue Sea." Are their Oscar prospects merely part of the out-of-Toronto media frenzy that won't amount to much? She offers her thoughts.
• We also get around to talking about "Take Shelter," which is also playing Toronto and features, to my mind, the best performance of the year so far from Michael Shannon.
• Finally, reader questions. I tried to speed through more than usual, addressing queries regarding "Warrior"'s Oscar hopes after coming up short at the box office, the New York Film Festival's acquisition road this year and potential unexpected contenders lurking on the periphery.
Have a listen to the new podcast below. If you make it to "Drive" this weekend, you'll appreciate the lead-in music. If the file cuts off for you at any time, try the back-up download link at the bottom of this post. And as always, remember to subscribe to Oscar Talk via iTunes here.
Thank you for being such a devoted audience for Oscar Talk here at InContention.com. But close one door and open another, so we hope you'll join us at HitFix next week.
[display_podcast]

Back-up download: Oscar Talk Episode 61