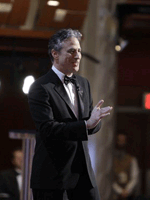 I have to be honest and admit that sometimes I forget that Jon Stewart hosted the Oscars. Part of that is because the host is just so rarely memorable (everything that's not novel starts to become a blur). And Stewart's done it TWICE, mind. The first time (2006 ceremony), his dry "Daily Show" writers failed to hit the mark (though, now that I think about it, I was in the aisles over that Wylie Stateman bit). The second time, two years later, went over better but he had obviously dialed some things down.
Still, anyone who has hosted the Oscars twice is a go-to guy for advice any day of the week. It's a demanding gig, not for the faint of heart. And if you do it twice, well, you're probably a little crazy, but you also clearly love the showmanship of it all. Billy Crystal is generally associated with the job (he's done it eight times and almost made it a ninth this year). But Bob Hope is of course the real king, having taken the stage on 18 occasions in his time.
So the news that Eddie Murphy was tapped as this year's Oscarcast host is naturally a hot topic to cover with prior emcees. And over at Rolling Stone, Eric Bates has done just that, probing Stewart for his thoughts.
Says Stewart:
Listen, the last person I would give advice to is Eddie Murphy. He's gonna fucking kill it. He's the type of guy they haven't had in a while. He's a movie star, but he's a great comic – sort of similar to Billy Crystal in his "multi-ability"…

With guys like me, you get the sense that at some level, deep down inside, we think it's fucking ridiculous. Now that can make for a very entertaining show. But it's good to mix it up.

The biggest problem of the show is the show. My favorite thing was when we showed one of their montages about all of these incredibly socially powerful films, and how Hollywood was a leader in the civil rights movement. I came back after the montage ended and said, "And racism was never a problem again." You just felt the whole room go, "Hey, motherfucker! Who do you think you are?"
I still think the Condon/Mark/Jackman year was the freshest, classiest example of late, a show that never really dipped too far into the pompous sincerity Stewart describes at the end there, but always maintained a level of respect. It was like a giant cocktail gathering.
We'll see how Ratner and company handle the festivities this year. I'm honestly (cautiously) optimistic. But one thing I'm definitely okay with is Murphy at the helm. I think it's going to be a great, unique fit.