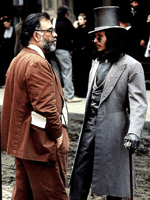 Here's a nice change of pace. On the occasion of the UK opening of "Tinker, Tailor, Soldier, Spy," London's Telegraph newspaper has commissioned actor Gary Oldman for his thoughts on director Francis Ford Coppola. It's kind of random, though. Yeah, Oldman starred in Coppola's 1992 film "Bram Stoker's Dracula," but there's no real connection otherwise. Coppola has "Twixt" at Toronto right now, so there's that, but whatever, I'm not complaining. It's always nice to get this kind of perspective from an actor. Here's a taste:
For me, Apocalypse Now is the peak of his career. So much so that I used a bit of it when I directed Nil By Mouth [1997] — that sequence when Dennis Hopper goes to Willard, who is Kurtz's captive, and starts telling him about Kurtz ("What are they gonna say? That he was a kind man? That he was a wise man?"). Francis gave me that footage for free, which was very kind of him.
On working with the director:
It was quite something working with him [on Dracula], though I got the feeling that I wasn't quite working with the same man who had made Apocalypse Now.

How does he deal with actors? He's collaborative. Unusually for a movie, we had a rehearsal period — about four weeks at his vineyard in northern California. He's opera, a big character. He'd cook us food, and there'd be lots of wine.

Francis likes to do a lot of takes, which I like, too — I don't find it trying at all. Tomas [Alfredson, director of Tinker, Tailor, Soldier, Spy] likes to get it in one or two, which at times I found a little frustrating, but you have to find the rhythm of how people work. And I would say to Tomas. 'At least give me three.' So we made a deal.
More at The Telegraph.
[Photo: Universal Pictures]