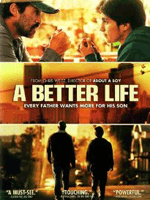 Deadline's Pete Hammond already reported that this was imminent, but since it arrived on my doorstep this morning, it seemed worth conveying here. Summit Entertainment is first out of the gate this year with FYC screeners aimed at drawing attention back to Chris Weitz's "A Better Life."
I was a big fan of Weitz's film, which hit the counter-programming slot this summer, particularly Demián Bichir's affecting lead actor performance (which Mark Harris recently spotlighted in his first on-going season column). You'll recall I spoke to Weitz about the film back in June, around the occasion of the film's Los Angeles Film Festival bow. He noted at the time that he was very keen on pushing for some year-end kudos recognition for Bichir.
I started to get worried that the film would be lost in the shuffle after it failed to find much life at the box office. But Summit is really smart to push this out there now, after such campaigns for Melissa Leo ("Frozen River"), Jacki Weaver ("Animal Kingdom") and Fox Searchlight's "Once" in recent years got a big leg up by being first on the doorstep. Oscar recognition will be tough but I definitely think some Indie Spirit attention could be in the cards. Any awards season attention at all is a big win, of course, as it just means more people will see the film.
Here's an excerpt from the Weitz interview that nicely conveys his thought process behind the film:
Everyone is constantly in their car, and when you're in your car, you miss a tremendous amount…People are completely unaware of the person next door, of the person on the corner, of the neighborhood that they're driving through only in a few brief flashes at 40 miles per hour. So I guess part of the aim of the film is to slow down and show a section of our culture, because it's not just Mexican culture, it's American culture.
"A Better Life" is set for release on DVD and Blu-ray October 18.
[Photo: Summit Entertainment]