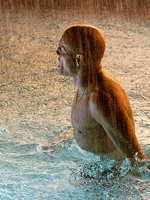 Oren Moverman's "Rampart" is absolutely fantastic. Top to bottom, it's a considerable directorial achievement, and an exciting, brazen departure from his excellent 2009 debut, "The Messenger."
The film — from an original screenplay by James Ellroy, re-written by Moverman — uses the 1999 Los Angeles Police Department Rampart corruption scandal as a frame, a state of mind, a narrative hook, an atmosphere for conveying an intense, probing, yet curiously vague character study in the form of LAPD officer "Date Rape" Dave Brown (Woody Harrrelson).
"Date Rape" got his nickname from his own scandal, the murder of an alleged serial rapist, which he explains away at a bar with a casual, "I may or may not have done it but he'll never hurt another woman again." That gives you an idea where this guy is coming from. The world is black and white for him (or so he'd like it to be). But he's haunted by its inherent grays.
Dave's family life is a circus: two daughters with two exes who all live together and share one important thing in common: they want to move on without him. He lives a grunt's life on the streets but carries a lawyer's intellect; if only he hadn't failed the Bar, he'd probably be just as unhappy in a courtroom, though no less ruthless.
Dave's trajectory is not a pleasant one. Scandal courts him yet again when he's caught on camera brutally beating a perp, the world of black and white catching up to him as, ironically, the situation was much grayer than what's on tape. So begins his downward spiral, one Moverman won't allow you to see to its inevitable conclusion because he wants this to be a slice, not a full serving. Inchoate. Amorphous, even. Dave tells his daughters he'll never change. We're somehow left wanting to believe that's not so in the face of every indication otherwise. And yet we're so invested without really knowing a whole lot about the guy. That's powerful characterization, and Woody Harrelson pulls it off perfectly.
This is a firehouse performance of subtle strokes and vivid internalizations. I was reminded of Michael Fassbender's work in "Shame" if only because both performances so wonderfully offer a master class in clenched but emotive power. It's Harrelson's best work in a good long while, including his Oscar-nominated performance in "The Messenger" two years ago.
In that film, Harrelson starred opposite Ben Foster, who is nearly unrecognizable here as a bearded boozer vet gliding along in his wheelchair at local LA haunts like the Original Tommy's hamburger restaurant at Beverly and Rampart in the heart of the division. Foster and Harrelson's brief exchanges were a hallmark for me in this film, especially knowing how much respect they have for one another and how profound an impact their collaboration on Moverman's last film had on them.
Also notable on the cast is Ned Beatty as an old-timer former shield who informs Dave on this and that. Their exchanges, often at The Pacific Dining Car restaurant near MacArthur Park, build another fascinating relationship, with Beatty really making sure we all know he still has it, that particularly terrifying element he's honed where cynicism comes close to nihilism in the same breath.
Finally, Robin Wright is incredible, too, in very limited time as a lawyer as addicted to the numbness of sexual promiscuity with Dave as he is.
Sigourney Weaver, Steve Buscemi, Ice Cube, Anne Heche, Brie Larson and Cynthia Nixon fill out the rest of the cast, all with their own weight to carry, but that quartet above is the story of the film, particularly Harrelson's tour de force.
I don't know how extensive Moverman's re-write of Ellroy was here, but the latter's voice is very evident throughout and kind of a breath of fresh air for its novelty in the face of current cinema. The pulp value is tangible but the characterization, especially as conveyed visually by Moverman, is incredibly rich. The synergy here is something to behold.
Technically, the film is also a marvel. Jay Rabinowitz's film editing really gets underneath the skin of the film's narrative, working well off of Bobby Bukowski's intimate photography. And on that, let me just say "Rampart" has some of the most striking cinematography of the year.
It's exciting to see Moverman stretching creatively and visually, even when it doesn't fully work (like one office confrontation constructed from drastic dolly shots that is unsettling in an inorganic way). I kind of wish the film had been held for Sundance, where I have no doubt it would have taken off, rather than risk being crushed by the glut of prestige-aiming films in Toronto. But I gather the hope is for a 2011 release, so hopefully some more positive notices will give it some wind in its sails.
There are suitors, naturally. Oscilloscope has a history with Moverman already after "The Messenger." Sony Pictures Classics is interested in everything this year, so it makes sense they would be sniffing around it. And IFC Films is in the hunt, too. Wherever the film lands, I hope it ends up in good, discerning hands, because it's a small gem of an experience that will need the proper care if it's to navigate the Oscar season's unforgiving waters.
More importantly, though, it's the kind of film that has me on the edge of my seat for whatever Moverman might do next. Here's a talent to watch, if we didn't already know.
[Photo: Waypoint Entertainment/Amalgam Features/Lightstream Pictures]