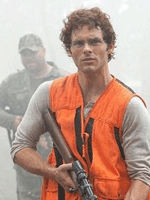 I should really write something about Rod Lurie's "Straw Dogs" remake, which, naturally, has been met with a lot of skepticism ever since it was announced. "How dare someone tinker with Peckinpah," etc. As if Peckinpah is beyond reproach. He's not, I'd argue, and Lurie's version of the novel that Peckinpah's film was based upon — Gordon Williams's "The Siege of Trencher's Farm" — works in ways that film didn't really want to.
The film features some dynamic acting from James Marsden and particularly Alexander Skarsgård (recognizable to most from TV's "True Blood"). Marsden finds a lot of interesting rhythms in the re-purposed Dustin Hoffman role, this time set as screenwriter David Sumner, who heads off with his wife, Amy (Kate Bosworth), to her bayou hometown for a change of pace and scenery. And he carries the overall theme of the film well: fighting for one's principles (which, interestingly enough, is a recurrent theme in Lurie's work going way back).
But Skarsgård is extra creepy as the beefcake brute from Amy's past, a former beau with a dose of obsession in his veins, and the slow boil that ultimately erupts in the story's famed rape scene has a particularly unsettling trajectory. What lurks beneath the surface all along is well handled but never inaccessible.
Basically I'm saying Lurie walks a delicate line here and pulls off an interesting directorial departure. I still prefer his work on "The Contender" and "Nothing But the Truth," but I always like to see filmmakers stretching and this was a smart step away from his usual strut.
Anyway, as mentioned, top marks for Skarsgård and Marsden. Bosworth almost internalizes too much here because the characterization is kind of vague, but then again, that kind of works for the character here and there. Also worth mentioning is James Woods, who chews the scenery as a hothead drunken former football coach who kick-starts the film's bloody climax.
It doesn't want to be your father's "Straw Dogs" because the audience it's aiming for, well, isn't your father. But it's well-played genre and a good post-summer piece of commercial cinema.
"Straw Dogs" opens nationwide this Friday.
[Photo: Screen Gems]